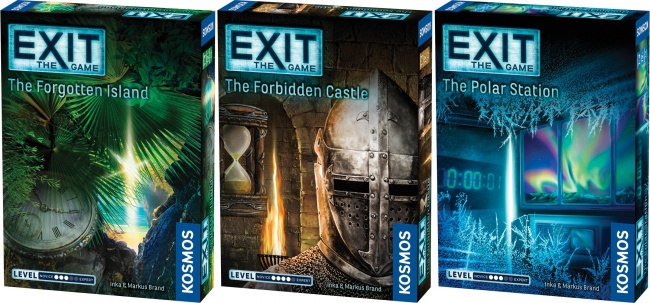 Thames & Kosmos has released details for five new games that will release in October, including the
Kennerspiel des Jahres
-winning
Exit: The Game
, the third part of the
Legends of Andor
series, and a game based on the Ken Follett novel
A Column of Fire
. The earlier Follet-inspired game,
Pillars of the Earth
will also be back in print come November.
The popular "escape room" phenomenon inspired Exit: The Game, which was honored with the coveted Kennerspiel des Jahres ("Enthusiast Game of the Year") this year (see "'Spiel des Jahres' 2017 Winners Announced") for the first three titles in the series. The second set will feature three new stories:
Exit: The Forgotten Island leaves players stranded on a deserted island, with only an old book and a mysterious golden disk.
Exit: The Polar Station is set in a frozen research center at the North Pole, with players trying to escape after an accident puts the facility in lockdown.
Exit: The Forbidden Castle features an abandoned and mysterious castle, where curious tourists find themselves locked inside.
All three Exit games are MSRP $14.95 each. See the gallery, below, for full-size images of all three box covers.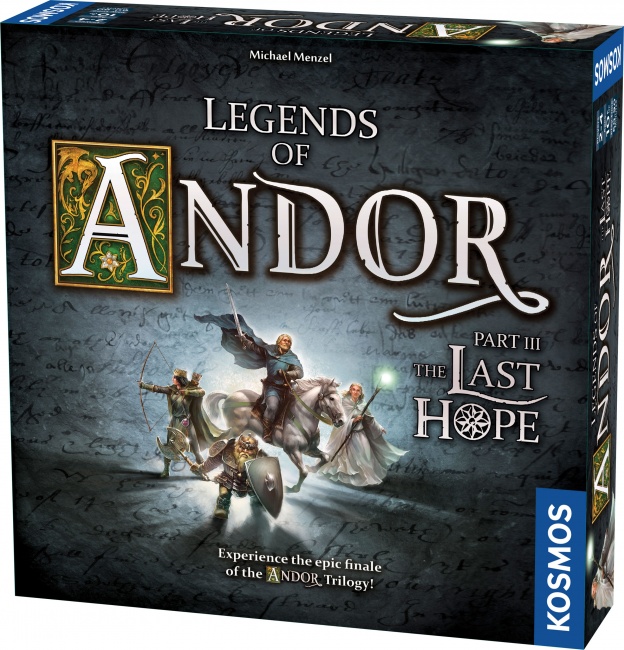 The climax of the
Legends of Andor
series arrives in
Legends of Andor Part III: The Last Hope
(see "
'Legends of Andor' Returns in 'The Last Hope'
"). This stand-alone cooperative game was designed to appeal to die-hard
Andor
fans and new players alike. MSRP is $59.95.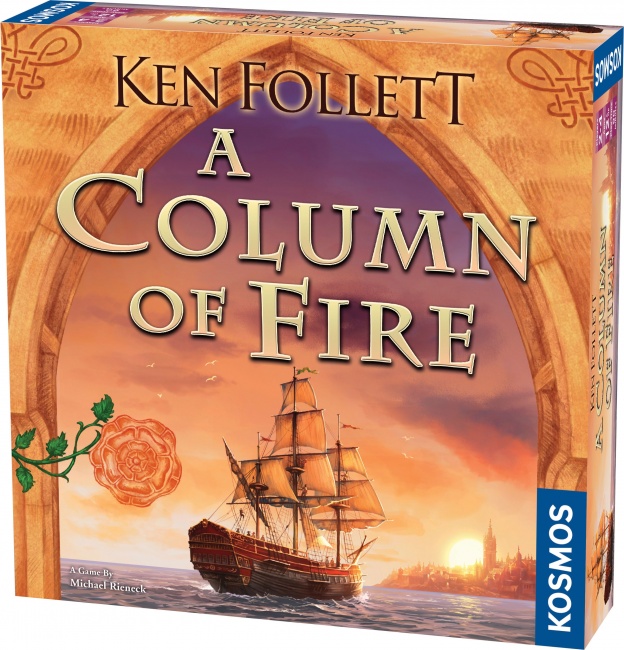 Announced earlier this year,
A Column of Fire
is based on the novel of the same name by best-selling author Ken Follett (see "
Thames & Kosmos Reveals 2017 Games
"). Set in a tumultuous period of conflict between Catholics and Protestants, the game challenges players to build a network of alliances with powerful families across Europe. Originally scheduled for a September release, it has now been scheduled for October. MSRP is $49.95. Click the image for a larger view of the newly released cover image, and a picture of the game components can be found in the gallery below.
The new games will be followed by a reprint of Pillars of the Earth, also based on a Ken Follett novel, which features players competing for fame as they help construct a magnificent new cathedral in 12th Century England. MSRP is $59.95.