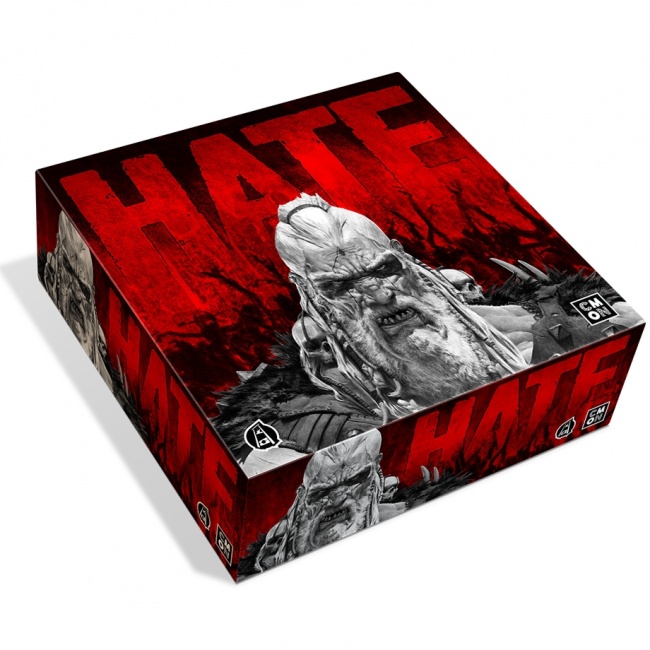 The brutal cannibalistic violence of Adrian Smith's
Chronicles of Hate
graphic novels will be the inspiration for a new board game from Guillotine Games and CMON. Citing the mature nature of the game and the comic it is based on, CMON has announced that it will not be sold through normal distribution channels, and will not be available for order except through the Kickstarter campaign, which launches January 16.
Retailers that are members of the CMON Play network may pre-order the game through that program during the Kickstarter campaign. CMON began the CMON Play program earlier this year to enable retailers to participate in the company's Kickstarters and other programs (see "CMON Unveils Brick & Mortar Retail Program"). The company will retain a small number of copies for sale at conventions.
Set in a war-torn post-apocalyptic world, HATE depicts battles between "Tribes" of blood-thirsty warriors who clash in battle. The game is set up for players to compete in battles called "Clashes," played over a series called a "Chronicle" to determine the ultimate winner. Battles are fought out on the game board using plastic miniatures, with players trying to complete their "Missions" so they can improve their tribe and village. Vanquished enemies, in turn, can be taken back to the village where they can be tortured or consumed to further increase the village's strength, while also denying the enemy the use of the character in future Clashes.
CMON previewed the game at Gen Con in August (see "CMON Unveils High Profile Games"). Game play uses a combination of dice and cards to resolve combat, with each player using their own Tribe deck. Decks are built before the game, allowing players to tune their strategy.
Game components and pricing have not yet been announced. HATE will be produced only in English.
Click the gallery below for some images and miniatures from the game!