The swashbuckling science fantasy adventures of Edgar Rice Burroughs' classic series of novels will be the heart of the new
John Carter of Mars: Adventures on the Dying World of Barsoom
role playing game, releasing this summer from Modiphius Entertainment.
Modiphius announced plans to produce the game under license from the Burrough's estate in 2015 (see "'John Carter of Mars' Comes to Tabletop"), and the game has been in development since that time, including a lengthy public beta test to solicit input from role playing fans. The final result, based on a modified version of Modiphius' Momentum System (also used in Conan, Mutant Chronicles, and Star Trek Adventures) is now seeking funding on Kickstarter.
The core book will include extensive background information about the world of Barsoom, the people who inhabit it, and the wondrous technology and creatures to be found there. This part of the book was written under the guidance of Burroughs scholar Scott Tracy Griffin. Complete rules for creating characters and playing adventures are also included, along with guidance for Narrator's and an introductory adventure.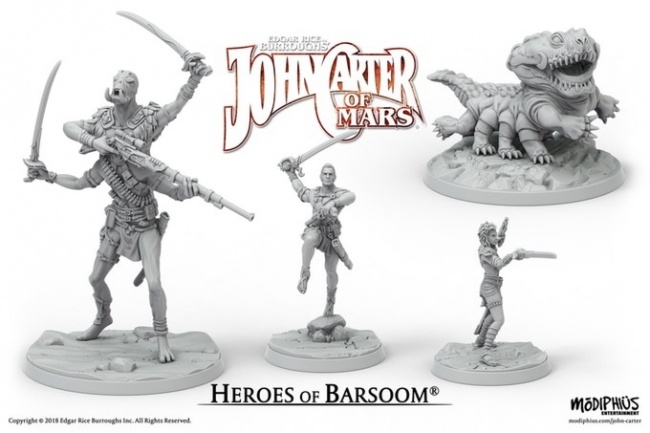 Modiphius' Kickstarter campaign to fund the project rocketed past its funding goal of £20,000 (about $27,144) early in its first day, with 32 days to go. The campaign does not have a retailer backer option, but retailers who have signed up for Modiphius' direct to retail program will have access to the game and all the Add On products from the campaign. This includes the hardcover landscape-format core rulebook, a deluxe slipcase version, the
Gamesmaster Screen
,
Heroes of Barsoom
Miniatures Set
,
Helium Dice Set
, and the
Prince of Helium Notebook.
Additional items may also be available as stretch goals are reached. MSRP for these items have not yet been announced.
See the gallery below for images of the miniatures.