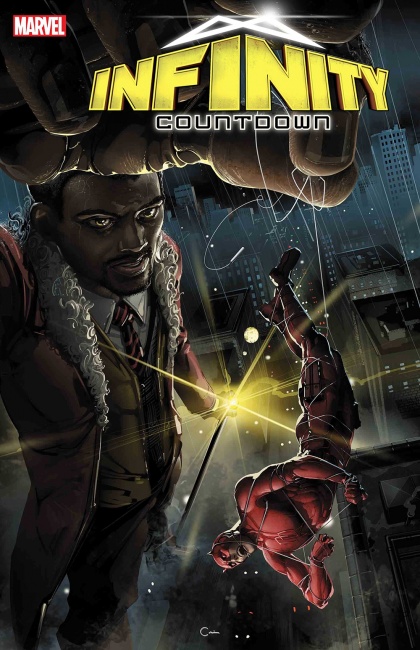 The
Infinity Countdown
event is spinning up with more tie ins. In May, Daredevil, Captain Marvel, and Darkhawk will each get an
Infinity Countdown
story of their own.
Infinity Countdown: Daredevil #1 from Infinity Countdown mastermind Gerry Duggan and artist Chris Sprouse (Black Panther) is a one-shot that finds Matt Murdock contending with the Mind Stone as he tries to protect his city.
In Infinity Countdown: Captain Marvel #1, Carol Danvers is in possession of the Reality Stone and on a mind-bending, cross-time adventure. The one-shot is written by Jim McCann (New Avengers: The Reunion) and illustrated by Diego Olortegui (Ms. Marvel).
Darkhawk returns in a four-issue miniseries from writers Chris Sims and Chad Bowers and artist Gang Hyuk Lim. Infinity Countdown: Darkhawk spins out of the war with the Fraternity of Raptors for the Power Stone.
Infinity Countdown Prime #1, by Duggan and Mike Deodato hits stands on February 21. Infinity Countdown #1 (of five) by Duggan and Aaron Kuder will be in stores on March 7 (see "Countdown to 'Infinity'").
Marvel is planning a publishing blitz of collections and new material in early 2018 (see "'Infinity War' Publishing Build-Up"). The Marvel Cinematic Universe will also be hunting for the Infinity Stones on May 4, when Marvel's Avengers: Infinity War opens (see "'Solo: A Star Wars Story,' 'Avengers: Infinity War,' Jurassic World: Fallen Kingdom,' 'Cloverfield Paradox,' 'Westworld' S2").
Click on the Gallery for covers.