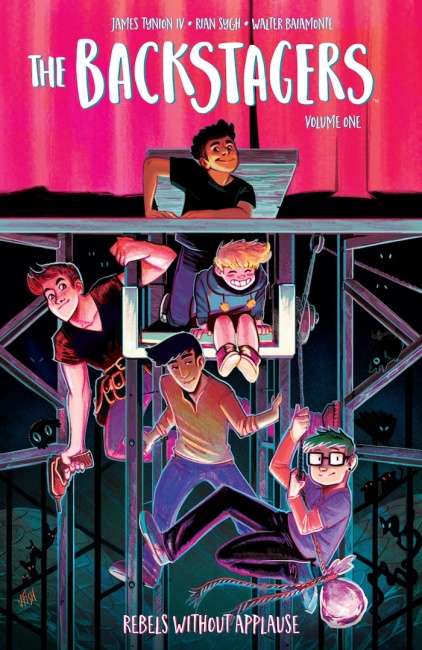 The American Library Association released its Young Adult Library Services Association (YALSA)
2018 Great Graphic Novels for Teens
list this week. The list includes 115 fiction and non-fiction titles that were published in the past year and a half that meet the dual criteria of "good quality literature and appealing reading for teens." In addition to the chosen books, YALSA releases a Top Ten list, and the 2018 titles are:
The Backstagers by James Tynion IV and Rian Sygh (BOOM! Studios)
Black Hammer Vol 1: Secret Origins by Jeff Lemire and Dean Ormston (Dark Horse)
Brave by Svetlana Chmakova (Yen Press)
I Am Alfonso Jones by Tony Medina, Stacey Robison, and John Jennings (Tu Books)
Jonesy, Vol 1, Vol 2, and Vol 3 by Sam Humphries and Caitlin Rose Boyle (BOOM! Studios)
Kindred: A Graphic Novel Adaptation by Damian Duffy, Octavia E. Butler, and John Jennings (Abrams ComicArts)
Lighter than My Shadow by Katie Green (Lion Forge)
My Brother's Husband by Gengoroh Tagame (Pantheon Books)
Pashmina by Nidhi Chanani (First Second)
Spill Zone (Vol 1) by Scott Westerfeld and Alex Puvilland (First Second)
All are 2017 releases except for the first volume of Jonesy. While the list is compiled by librarians, it's a useful resource for retailers who are looking to expand their teen section.
No Marvel or DC titles appear on the top ten, although there are some on the longer list; BOOM! Studios has two top ten titles, both in its BOOM! Box imprint, and First Second has two as well.
The 2017 list can be viewed here: "YALSA Top Ten Graphic Novels for Teens 2017."
See covers for all Top 10 Books in the Gallery Below.