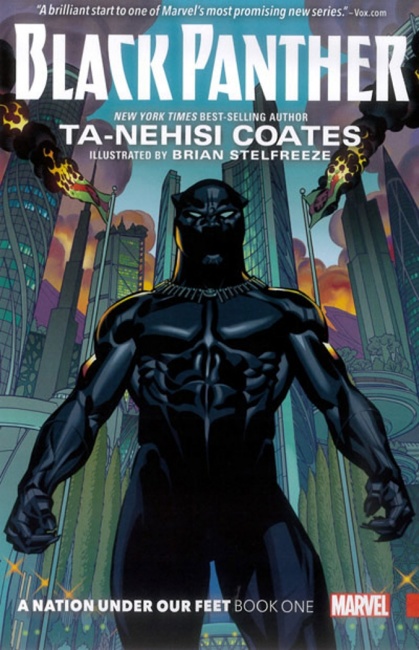 The Young Adult Library Services Association (YALSA) has released its 2017 list of Great Graphic Novels for Teens published in 2016. Congressman John Lewis' graphic novel
March: Book Three
won four major awards at the American Library Association's (ALA) Youth Media Awards.
The members of the Great Graphic Novels for Teens Committee selected a top ten list and 104 titles from 145 official nominations. The selections are books that meet the criteria of both good quality literature and appealing reading material for teens 12 – 18. The selections were presented at the annual ALA Midwinter Meeting in Atlanta this week.
The list is intended for librarians and teen readers, but it is also a great merchandising resource for retailers, since odds are high the customer who buys a recommended book will enjoy it and come looking for additional titles.
The YALSA Top Ten Graphic Novels for Teens from 2016*:
Giant Days Vol 1 by John Allison and Lissa Treiman (BOOM! Box – *released in 2015)
Giant Days Vol 2 by John Allison and Lissa Treiman (BOOM! Box)
Black Panther, Book One: A Nation Under Our Feet by Ta-Nehisi Coates and Brian Stelfreeze (Marvel Comics)
Mighty Jack by Ben Hatke (FirstSecond)
Plutona by Jeff Lemire and Emi Lennox (Image Comics)
March: Book Three by John lewis, Andrew Aydin, an Nate Powell (Top Shelf)
Filmish: A Graphic Journey Through Film by Edward Ross (SelfMadeHero - *released in 2015)
Prez, Vol 1: Corndog in Chief by Mark Russel, Ben Caldwell, and Mark Morales (DC Comics)
orange: The Complete Collection 1 by Ichigo Takno (Seven Seas Entertainment)
Paper Girls 1 by Brian K. Vaughan and Cliff Chiang (Image Comics)
We Stand On Guard by Brian K. Vaughan, Steve Skroce, and Matt Hollingsworth (Image Comics)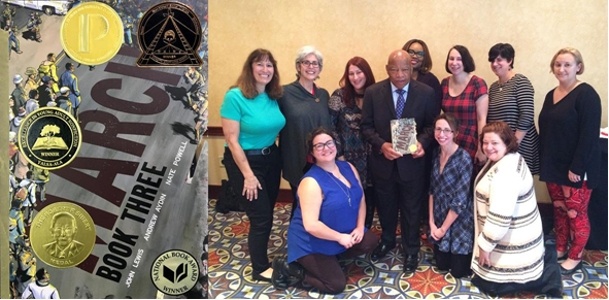 March: Book Three
not only appeared on the Top Ten list, it also broke new records by winning four major awards in the ALA Youth Media Awards, more than any other book in the awards' history, which dates back to 2000.
The title won:
The Coretta Scott King Book Award (for outstanding African-American books for youth)
The Michael L. Printz Award (for excellence in young adult literature)
The Robert F. Sibert Informational Book Award (for most distinguished informational book for children)
The YALSA Award for Excellence in Nonfiction for Young Adults
The final volume of Congressman John Lewis' graphic memoir also won the National Book Award in November (see "'March' Wins National Book Award").