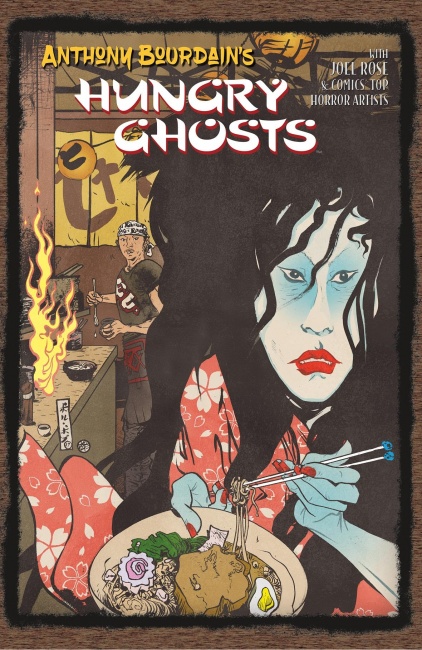 Anthony Bourdain's Hungry Ghosts is bound for a hardcover collection this fall. The 120-page collection, which includes recipes from the popular chef and food adventurer, will be in stores on September 19 for an MSRP of $14.99. The volume features a cover by Paul Pope (Batman Year 100, Battling Boy, Heavy Liquid).
The series is inspired by Hyakumonogatari Kaidankai or 100 Candles, a Japanese Edo Period game that is played by samurai to test their courage. In Hungry Ghosts, a circle of international chefs invoke horrifying tales around the common theme of food. In addition to recipes, the collection will also include a guide to the ghostly spirits featured in the stories.
Hungry Ghosts, one of the debut titles from Dark Horse's Berger Books imprint (see "Dark Horse Details First 'Berger Books' Releases") is co-written by Joel Rose and includes art from Pope, Sebastian Cabrol (Caliban, God is Dead), Francesco Francavilla (The Black Beetle, The Lone Ranger), Irene Koh (The Legend of Korra: Turf Wars), Leonardo Manco (Hellblazer, John Carpenter's Asylum), Alberto Ponticelli (Unknown Soldier,Dial H), Vanesa Del Rey (Redlands, The Empty Man, Hit 1957), and Mateus Santolouco (Teenage Mutant Ninja Turtles, Two Guns). Jose Villarrubia (Conan the Cimmerian, Get Jiro!, Sweet Tooth) colors the series.