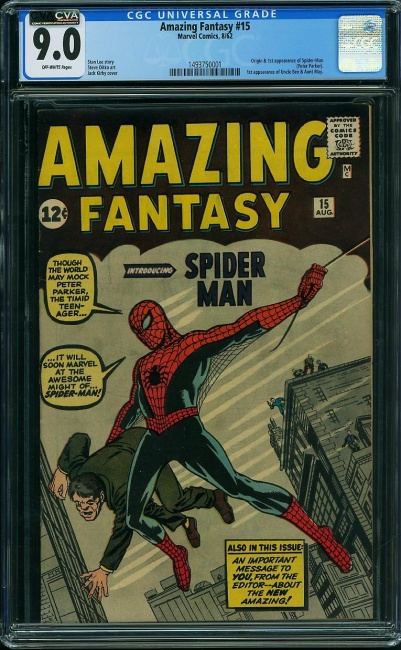 A high-graded first appearance of Spider-Man has gone under the hammer for a hefty sum. The ComicLink auction of
Amazing Fantasy
#15 CGC 9.0 brought in $415,000, setting a new record price for the issue in such condition (via
Previews World
). It is one of only nine copies of the issue to garner a 9.0 universal grade from CGC.
ComicLink sold a CGC 9.0 copy Amazing Fantasy #15 just over a decade ago, bringing in $60,000, denoting a marked increase in interest for high-graded landmark issues.
A copy of Amazing Fantasy #15 CGC 9.4 sold in 2016 for $454,100, including buyer's premium (see "'Amazing Fantasy' #15 9.4 Sold"). A CGC 9.6 copy was sold in 2011 for $1.1 million in a private sale (see "'Amazing Fantasy' #15 Sells for $1.1 Million"). CGC 9.6 is the highest grade in which the book is known to exist, according to the CGC registry.