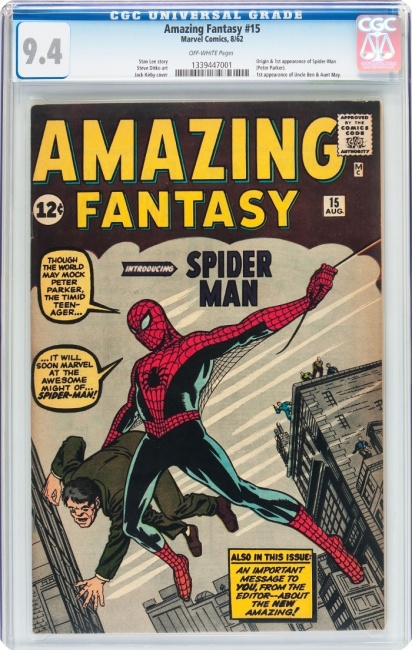 A CGC 9.4 copy of
Amazing Fantasy
#15, the first appearance of Spider-Man, was sold in an auction conducted by Heritage Auctions on Thursday for $454,100, including buyer's premium. That's the highest price paid in a public auction for a Spider-Man book, according to Heritage.
The copy was owned by New York native Walter Yakabowski, who bought the book in a group of high quality comics as an investment in 1980, then stored it in a safe deposit box. He paid $10,000 for the lot; the amount attributed to the Amazing Fantasy #15 was around $1,200.
A copy of Amazing Fantasy #15 graded at 9.6 was sold in 2011 for $1.1 million in a private sale (see "'Amazing Fantasy' #15 Sells for $1.1 Million"). That's the highest grade in which the book is known to exist, according to the CGC registry.