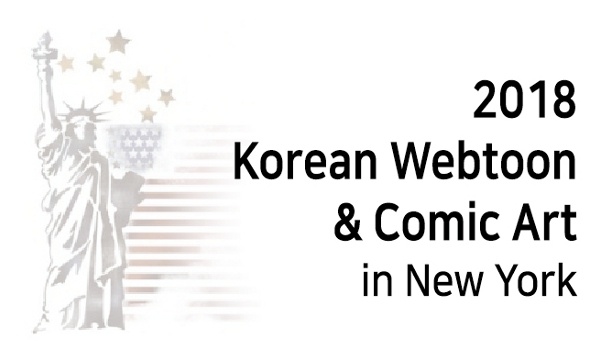 An ICv2 Release.
Organized by the Korean government, Korean Webtoon & Comic Art in New York is a special event showcasing the best of Korean webtoon and comic arts to industry leaders, publishers, studios and producers in the United States next Wednesday, October 3 at SVA Theatre in New York City.
The event will feature seven key webtoon companies, including key platforms and publishers, offering content for international digital, publishing and media licensing, and seeking international collaborations.
Developed in Korea, webtoons (vertically scrolling webcomics) have become one of the most popular comic formats in the world, rapidly transforming the medium. In Korea, 1700 new webcomic episodes are published each week, on 64 different platforms. The most recent market size info we could obtain, for 2015, had the Korean webtoon market at around $265 million (revenues are derived from small per-episode transactions and advertising-supported free content), according to
Korea Joongang Daily
. If those per capita consumption levels were achieved in the U.S. market, webtoons would generate over 50% more dollars than the whole comics market, across formats and channels, does now (see "
Comics and Graphic Novel Sales Down 6.5% in 2017
").
Here are the participating companies:
C&C Revolution Inc.
Publishes Imitation, the #1 Korean webtoon, which has 3 million subscribers in Korea (combined paid and free) and had 7 billion views in China in 2017. Also a print publisher with over 100 titles since 2002. Operates webtoon platform ComicBang.
Contents First Inc. – TappyToon
Platform and digital publisher with international footprint. Currently collaborating on
Folding City
, based on a 2017 Hugo Award-winning short story.
Daum Webtoon Company
Second largest webtoon platform and publisher in Korea, with over 100 titles published internationally and titles adapted into feature films and TV shows. Collaborations with Casterman, Disney/Marvel, and Mamoru Oshii.
EGA Comics
Contents planning, creation, and accelerating company. International collaborations with Marvel, Disney, Image.
Jaedam Media
NCSOFT-funded digital publisher. Works exported to USA, China, and Japan, and licensed to other media.
Story Company
Digital publisher with projects funded by Showbox, one of the largest film distribution companies in Korea. Exports to China and other countries.
ULTRAMEDIA Co., Ltd.
Digital publisher with an international transmedia focus.
Korean Webtoon & Comic Art in New York
Date: October 3, 2018
Location: SVA (School of Visual Arts) Theatre, 333 W. 23rd St. (between 8th and 9th)
Program: 11 a.m. – Presentation
Noon – Business Meetings
1:30 p.m. – Networking Reception
Parties interested in attending please contact Milton Griepp at ICv2, MGriepp@ICv2.com