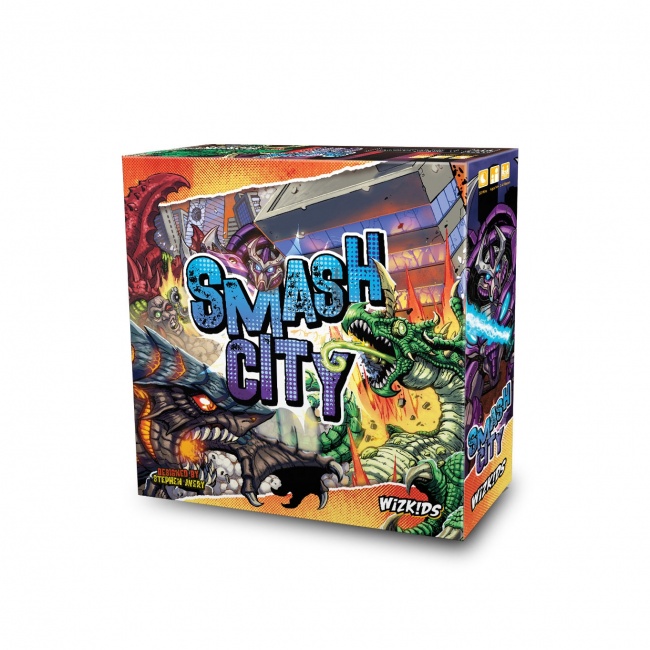 Giant monsters will do battle in WizKid's upcoming release
Smash City
, coming out in March.
Smash City features a dexterity-based game mechanic to represent rampaging giant monsters, challenging players to roll their oversized dice in an effort to knock over the 3-dimensional cardboard buildings. Damaged building can release energy, such as fire, electricity, radiation, and poison gas, which monsters can then use to power up their attacks. Destroying buildings also grants a player "SMASH!" cards that give their monster special abilities.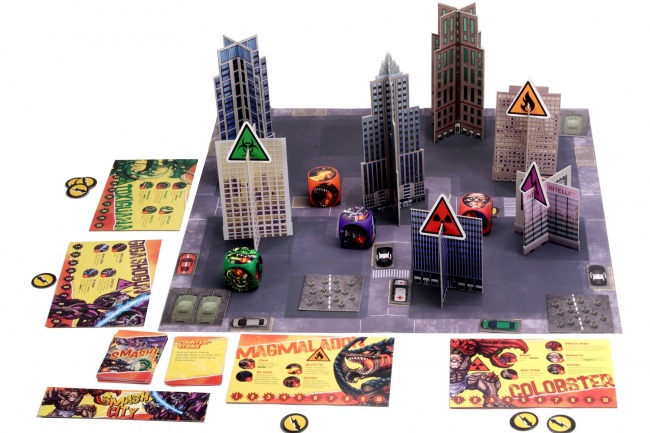 The game comes with four different monsters, each with their own abilities and strengths. Each monster is associated with a different energy type. The city itself also has human defenders who will try to confront the monsters. Meanwhile, vehicles and tanks can themselves become weapons in the duel between the kaiju.
Smash City was designed by Stephen Avery (Nothing Personal). It comes with 4 large foam monster dice, 1 city map, 3-dimensional buildings, army tiles, car tiles, player boards, and a deck of SMASH! cards. The game is intended for 2 to 4 players, ages 14 and up, and takes about half an hour to play. MSRP is $39.99.
WizKids has also set a March release date for its push-your-luck game K'uh Nah (see "Design the Best Mayan Pyramid in 'K'uh Nah'") and a licensed Dungeons & Dragons board game (see "'Dungeons & Dragons – Waterdeep: Dungeon of the Mad Mage' Board Game").
See more images in the gallery below!