Confessions of a Comic Book Guy is a weekly column by Steve Bennett of Super-Fly Comics and Games in Yellow Springs, Ohio. This week, Bennett takes a look at CCXP in Brazil and Singapore Comic-con which both wrapped up recently.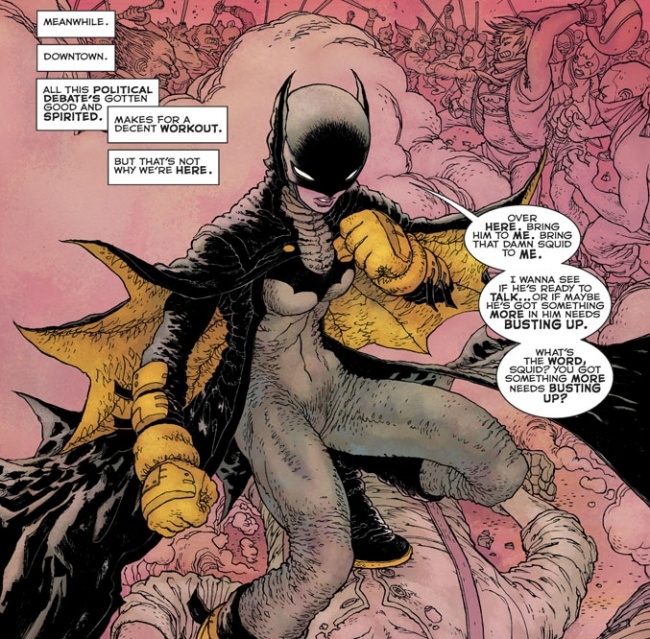 Last December, I wrote about some of the many comic book conventions now being held all over the world, including the Comic-Con Experience (CCXP) in Sao Paulo, Brazil (see "
Confessions Of A Comic Book Guy -- A Harley Quinn Christmas
"), which just wrapped up on Sunday. It has become the key platform for steaming services and movie studios to show off their latest wares off to a Latin America geek audience and the one comic book convention I really wish I could attend. And yet, I somehow I had zero ideas it was going on until it was over, in spite of all of the headlines that it generated.
Given Brazil's strong comic culture, and affinity for characters from American popular culture, it's more than a little sad that I could only find one story about an actual comic coming out of CCXP. As outlined in a recent article (see "DC in a Maelstrom of International Pressures"), DC had published an image on social media promoting their upcoming The Dark Knight Returns: The Golden Child title featuring "a black-clad Batman is throwing a Molotov cocktail, with the tagline, 'The Future Is Young.'" Posts on Chinese social media decided that it showed DC's support for pro-democracy protesters in Hong Kong, and so "DC took down the posts, leading to reaction from U.S. social media users accusing the company of buckling to Chinese pressure."
Frank Miller and Rafael Grampa (his collaborator on The Dark Knight Returns: The Golden Child, a Brazilian comic book artist, and filmmaker) were at CCXP to discuss the project. And while 'he was happy that the image and promotional slogan were adopted by protestors' in Hong Kong, Grampa said the real reason the image was removed was that "DC posted the wrong image without our names and the credits." He also said, "People want something to be inspired by, and people are fighting for their freedom. This is what The Golden Child is," and "We're trying to tell a story about people thinking for themselves."
I suppose this proves two things. First, I keep writing about the importance of the Chinese market in today's world when it comes to selling American entertainment, and clearly that can come with unintended consequences as well as just how easy it is to offend certain sensibilities without meaning to. And two, there really is no such thing as bad publicity, because I had nearly no interest in reading Miller's latest iteration of The Dark Knight until this story prompted me seek it out. And I'm glad it did.
It ships this week, which I honestly didn't know until I looked up what was shipping this week (the title of my autobiography should be Oblivious Me) hopefully, this story will also get more people to actually read The Dark Knight Returns: The Golden Child. Because I have, and you should. It's wild, dark and strangely hopeful, with that "torn from today's headlines" quality that modern comics now seem to actively avoid.
The rest of the press was, of course, about all of the comic book movies and the actors who starred in them; Gal Gadot Introduces New Wonder Woman 1984 Trailer at Convention in Brazil, Marvel's Eternals first footage arrives at Brazil Comic Con Experience and Godzilla Vs Kong' First Footage From CCXP Leaks Online. The focus was primarily on the movies but the usual assortment of celebrities was in attendance promoting their upcoming projects, some of whom got nearly as much publicity as the movies they're in.
Gal Gadot, and what she was wearing, naturally made a lot of headlines, but Ryan Reynolds seemed to receive the lion's share of them. Though to be fair he did earn them by nearly being trampled. There were the benign ones, like Ryan Reynolds Gets Standing Ovation as He Debuts First 'Free Guy' Trailer in Brazil, but understandably a lot of them made much of the incident where Ryan Reynolds Almost Crushed By Fans Toppling Barricade at Comic-Con in Brazil.
It seems while making his appearance Reynolds leaped off the stage to greet his fans and in their rush to greet him they knocked over the barricade separating them. Most of the pieces stressed how dangerous the situation had been for him, but later there was the piece with classic male movie star aplomb. This piece minimized the threat to Reynolds, though it did so with the slightly confusing sentence; "actor found himself in slight danger when a barrier gave way, nearly crushing him." I'd suggest being very nearly crushed usually elevates the threat level slightly above "slight danger," but then, I wasn't there. Sadly.
"Sadly," not because I wanted to see Ryan Reynolds injured in any way, but because I really do wish I could have been at CCXP. But then, I wish I could attend any of the new big international comic book conventions. For instance, I also just missed Singapore's first major comic con. It too was a multi-media convention and the press for it stressed the importance of games and cosplay, but I'm not entirely sure how well-known cosplay is in Singapore given I found an article online titled Playing in Costume: What is Cosplay?

It also featured another example of just how important the Chinese market is for American entertainment companies. To help promote their upcoming movie
The SpongeBob Movie: Sponge on the Run
, Nickelodeon had Singaporean artist Johnny Lau draw a coffee table book,
Mr Kiasu Meets SpongeBob SquarePants,
that has Lau's iconic local animated character meeting SpongeBob.
Also, American comic book artists Andy Kubert and Whilce Portacio attended the show according to Singapore ComicCon: Andy Kubert, Whilce Portacio on Barriers to Industry Entry. As the headline would suggest, they talked about how "despite the popularity of comic books, it is quite hard to break into the industry, and that practitioners have to excel." But his comments that interested me most was when Kubert talked about the writer portion of being a comic book writer hyphen artist and how "Writing is a whole different ball game, it's a whole different set of muscles and I don't know if I enjoyed it that much. It's going to take a lot for me to write again. Drawing is not work, this was actual work." It's not often you hear an artist acknowledge that.
And finally, Kubert announced something I hadn't heard before from anyone else, that he had plans to revive Sgt. Rock, one of the characters most associated with his later father Joe. Here's hoping we'll be seeing this soon.
The opinions expressed in this column are solely those of the writer, and do not necessarily reflect the views of the editorial staff of ICv2.com.