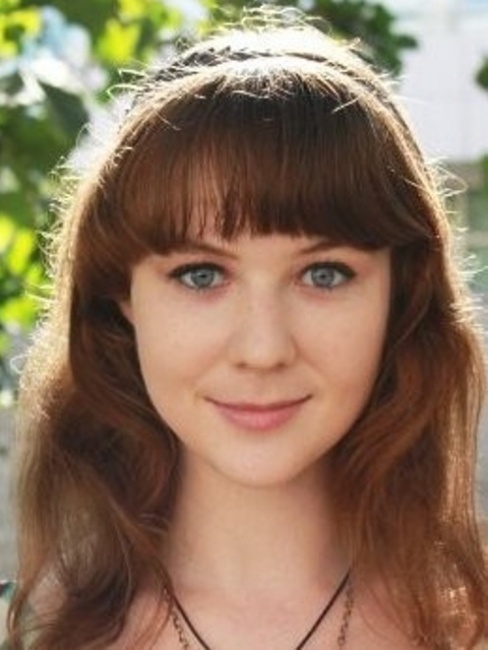 We talked to Tokyopop editor Lena Atanassova to get more details on Tokyopop's newly unveiled Love x Love imprint, which will collect the publisher's love stories, including LGBTQ+ genres, under a single umbrella (see "Tokyopop Launches 'LOVE x LOVE' Romance Imprint").
Why did you decide to gather all these different romance genres into a single imprint?
Our team strongly believes that love is for everyone, love is love. Rather than separating girls' love and boys' love into distinct genres traditionally considered more niche in the manga market, we want to elevate all romance. The goal is eventually providing an array of romantic titles as diverse as our audience: a celebration of all kinds of stories, all kinds of love, characters and people.
Who are you looking to attract with these—traditional manga readers, romance fans, someone else?
All of the above! By including all of these different romances under one umbrella, we hope to encourage new readers and those familiar with manga alike to check out stories they might not have otherwise found because they were separated into a supposedly niche genre. In recent years, we've realized through fan support and interaction with the community that there's a lot of overlap in manga fans between those who enjoy reading about all different types of relationships (BL fans who like shojo or GL or all three, etc.). We want to make it easy for fans and new readers to find the kinds of stories they're looking for—and maybe discover something new!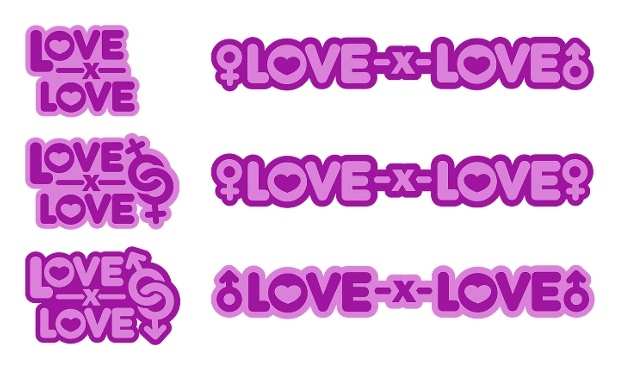 Why did you decide to do three different logos for the three types of stories (m/m, f/f, m/f)?
Simply, the logos offer a quick visual reference for the type of relationship readers can expect within a book they pick up or see online.
This seems like a very female-focused brand. Yaoi and yuri are typically aimed at women, as are shojo and josei. And the pink-purple color scheme suggests that as well. Is that what you have in mind?
Love x Love was born as a natural progression of our company philosophy that manga is for everyone. When coming up with the branding and the logos, there was careful deliberation over what colors to use. Specifically, we wanted to avoid a "gendered" brand theme, and so we settled on purple because it's eye-catching and bright, but not particularly coded as either "for women" or "for men." While red was our initial first choice, we had already used it for previous campaigns and wanted to make sure that LOVE x LOVE stood out.
Although it's true that many fans of romance in general are women, we are not focusing this line explicitly at any one demographic. Our intent is to give fans of romance—regardless of how they identify or what kind of manga they enjoy reading—more options in one place.
Why did you decide to include both Japanese and non-Japanese manga in this imprint? Will you be differentiating them in any way?
Tokyopop has been committed to supporting global manga creators for over a decade. We believe that just as manga can be enjoyed by everyone, anyone can create it. LOVE x LOVE is a brand promoting romance stories, and love is a universal human experience. Part of our commitment to diversifying the romance stories we publish is to give voice to creators of all different backgrounds. We do not plan to differentiate within the Love x Love brand between manga that is from Japanese or non-Japanese creators.
What about length: Will you be focusing on one-shots, short series, or long series?
Most of the series we are looking at tend to be shorter, one or two volumes telling a complete story. We are going to focus on licensing and creating easy-to-collect and consume manga series of several volumes, one-shots, and short stories. Of course, this doesn't mean we won't publish any longer series alongside them for those fans who love a slow-burn story!
How are you going to be marketing them?
We have an extensive marketing plan that will utilize organic and paid social, and a number of exciting plans that are still being finalized. We're also focusing our event and convention appearances this year on promoting this initiative, and introducing fans both new and old to these LOVE x LOVE titles.
How will you bring in new readers?
As a thank you to our current fans and a gift to new ones, we're launching a first edition of our new Love x Love magazine as a digital download to newsletter subscribers. It will feature the first chapter of a number of our new LOVE x LOVE titles, and as a bonus we'll be providing a code to purchase the featured titles as a very attractively priced limited-time bundle. Beyond that, we will reach out to potential readers online, through retailer programs and of course at conventions.
Can you describe the Love x Love magazine? About how many stories/chapters will be in it?
The LOVE x LOVE magazine is an all-digital, brand-new initiative which we are very excited about! The details are still in the planning stage, but what I can tell you now is that we plan to tailor the magazine to what we hope romance lovers will enjoy, including never-before-seen content and sneak-peeks of our upcoming books, both print and digital. We envision that it will be about 100-150 pages on average, with a mix of short stories and sneak-peek first chapters. The first issue mentioned above will offer a look at some of our existing LOVE x LOVE titles and give readers a chance to check out various romance manga from Japan and beyond, featuring different relationships and sub-genres such as fantasy, adventure and slice of life.
Will there be other content that is not manga, such as author profiles, culture, etc.?
We do intend to include bonus editorial content of this type, but the main focus will always be the stories themselves. We will have author interviews on occasion, editorial letters, and hopefully even participation from fans, such as their own short stories or art. All of these are ideas we are striving to accomplish in the future as the magazine expands and grows.
Will there be ads?
This is something still under discussion, but as we want to make sure the Love x Love imprint is front and center we will likely include ads for other titles in the line that weren't specifically featured in that issue of the magazine.
What will it cost to subscribe?
The price is still to be determined and will be announced in the near future.
How frequently will it come out?
The plan is to start with an issue every quarter, working towards increased frequency depending on fans' reactions.
Finally, a very basic question: How do you pronounce this? Is it "love cross love," "
Love x Love
," "love love," or something else?
It's pronounced "love love" out loud and stylized as LOVE x LOVE when written.
[For more great Manga Week coverage, click here!]