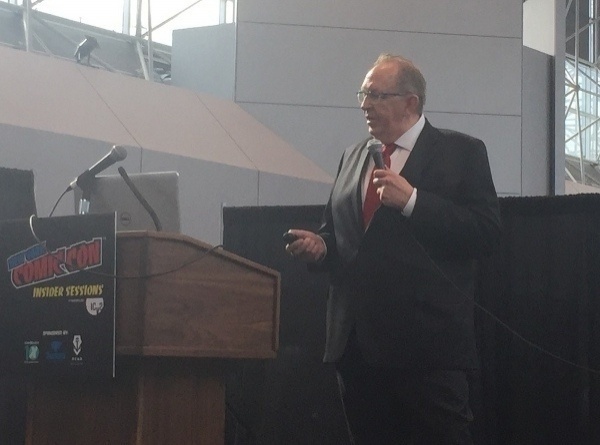 So DC cuts off a major distributor to comic stores, upending the distribution system, perhaps permanently. What's familiar about this picture?
When I read Geppi Family Enterprises' CEO Steve Geppi's description of the breakdown of negotiations between GFE company Diamond Comic Distributors and DC (see "
Diamond Recounts Run-Up to DC Termination
"), my first reaction was "I wonder what that's like?" That's because his description was not dis-similar to what I went through as CEO of Capital City Distribution back in the mid-90s. At that time, Marvel had purchased Heroes World Distribution and cut off all of its other distributors. That left Diamond as the largest independent comic distributor, Capital City as the second largest, and a handful of smaller companies selling all the other comic lines, with DC as the largest supplier to all of us.
DC Publisher Paul Levitz shortly made a decision that DC would also align with only one distributor, and with Bob Wayne's help began a process of evaluating whether that would be Diamond or Capital. We participated in that process, but also pointed out that DC didn't have to do anything. DC could benefit from the reaction to Marvel's action, which was unpopular with the trade, and rally the business around the companies that were giving retailers a choice. But on the eve of our annual sales conference, DC informed us of their decision to go with Diamond as DC's exclusive distributor.
After a similar process, the third largest comic publisher, Image Comics, made a similar decision, to go with Diamond as their exclusive distributor, and the current structure of the business was cemented. We fought a rear-guard action, suing DC (settled without trial) and signing some smaller companies, including Kitchen Sink Publishing and VIZ Media, to exclusives, but sold out to Diamond a year or so later.
Fast forward: DC apparently came to the conclusion that exclusive distribution wasn't working for them at some point in the last few years; Steve revealed that DC had incorporated a clause in its most recent contract that it could break Diamond's exclusivity with 60-day notice (see "
DC Cutting Off Diamond
").
Even Image, which has been the staunchest of Diamond supporters and the largest company currently using Diamond Book Distributors as its distributor to the book channel, has been rethinking the whole exclusive distributor thing, with Image President Todd McFarlane telling our own Rob Salkowitz at
Forbes
, "[I]t's not healthy in the long run for one person to hold the fate of the entire industry."
So now that they've seen what happens when the single distributor to the channel shuts down, the two largest comic publishers that elected to follow Marvel down the exclusive distributor path 25 years ago are thinking that may not have been a great idea.
[Note: Image Publisher Eric Stephenson reached out to tell us that this was not the position of Image see "
World According to Griepp – Image Not Considering Distribution Alternatives
"]
DC is the only one that's taken action so far, opening companies controlled by two large ecommerce retailers as distributor accounts, and largely ending its relationship with Diamond (which will continue to ship backlist to North American retailers through the end of the year, and continue to serve UK accounts for now). It's also opened distribution on graphic novels to comic stores by Penguin Random House, its book channel distributor, and appointed two toy wholesalers as additional distributors of its figure, statue, and collectible line, DC Direct.
By the way it's handling this transition, DC has made clear that it wants to make a complete change in its distribution system. It did not allow Diamond to remain as an option along with its new distributors, and it made the change with almost no notice, indicating that it saw some urgency. Given that DC presumably had its reasons to make a move, why move so fast? It's not easy for thousands of stores to make a distribution shift in a few weeks, with little notice, so what made it worth it to put those stores through that disruption?
There have been two visible disagreements between DC and Diamond in the coronavirus era. The first was over the decision to shut down completely rather than attempt to keep shipping new releases to the stores that were open through April and May. DC was unhappy enough about that decision to quickly make arrangements to ship its comics to retailers through two other distributors while Diamond was shut down.
The second disagreement was over the day of the week on which new comics and graphic novels are released. DC wanted to change its release day to Tuesday to coordinate its release between the book channel and the comic store channel; but Steve told ICv2 that he was not going to consider changing the release day unless he got "an overwhelming sense" that retailers and other publishers wanted the day changed (see "
ICv2 Interview: GFE CEO Steve Geppi, Part 2
").
A third visible problem in the relationship was Diamond's suspension of normal payments due in April and May, substituting a 25% payment and a subsequent three-month payment plan (see "
Diamond Details Delayed Pay-Outs for Publishers
").
Those three problems were not the only issues between the companies, or DC would not have asked to put an out clause in its contract with Diamond before COVID.
In our interview, Steve said that his read on the situation was that DC wanted to have multiple distributors and they made the move during the COVID era because the stakes were lower: distribution was already disrupted so if things didn't go well the additional damage would be minimal. That doesn't explain why Diamond isn't one of the options, though, so it appears that one or more of the three issues above, or others we haven't identified, were also factors in DC's decision.
One other strategic issue that DC identified in the announcement of its move away from Diamond is that sales have been "stagnant" in the direct market. Furthermore, both Diamond and comic stores have been losing share to the book channel as graphic novels have become the dominant format for comics. There's always incentive to make a change in the channel that's not performing as well as others.
Looking at DC's new distributor roster, I see common characteristics among the four new distributors. The new distributors are UCS Comic Distributors and Lunar Distribution (operated by large ecommerce retailers Midtown Comics and Discount Comic Book Service, respectively) for full line, and EE Distribution and Sideshow for DC Direct (Penguin Random House has been DC's graphic novel distributor to the book channel for some time; it's just expanding into the comic store channel). All four have excellent product knowledge and existing logistics operations that can get easily-damaged collectibles to their destinations; they can get the right stuff in the right box and ship safely. While I've heard of problems on the data end with supplying retailers the metadata they need to get products into their systems, I haven't been hearing of shipping problems, at least not yet.
All four also have existing direct-to-consumer operations. For DC, this is a hedge. Whatever happens to its distribution in the coming months, DC has secured sales by its largest e-commerce retailers to the fan market. And if DC decides to take on more house accounts to further disintermediate distribution to comic stores, it's already got a good start.
Will other publishers follow DC down this path, make different moves to diversify their distribution, or stick with the tried and true? Of one thing I'm sure; this is the biggest period of change in the comics business in over two decades, and it's not over yet.
We're putting these World According to Griepp coronavirus columns (the most recent was on a new model for taking advance orders, see "World According to Griepp: Adapting to the Coronavirus Year") on the public site instead of the Pro site because of the importance of the times, but please support our Pro site with a new or ongoing subscription.

Milton Griepp is the founder and CEO of ICv2, and long-time executive in the geek culture business. The opinions expressed in this column are solely those of the writer.