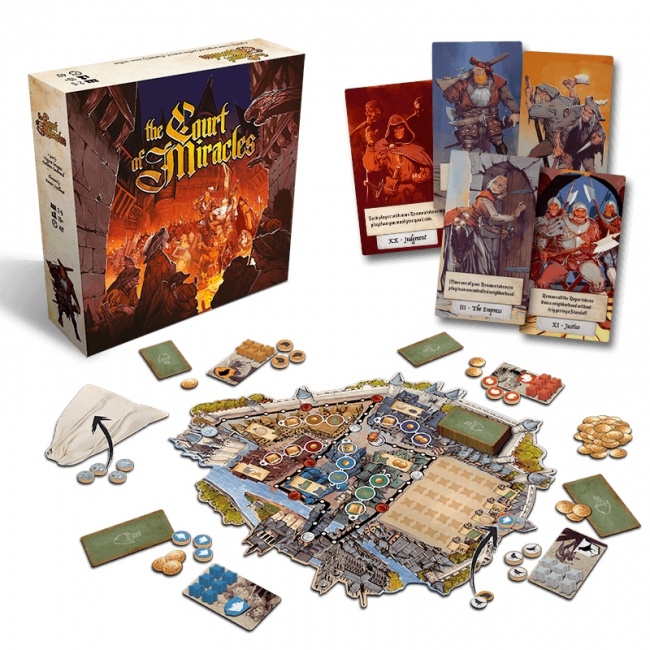 Lucky Duck Games will release Lumberjack Studios'
The Court of Miracles
worldwide in September.
First launched in 2019 under the title La Cour des Miracles, The Court of Miracles is a game about competing gangs of rogues struggling for control of 16th Century Paris. Players begin with a small guild of four rogues, dispatching them to neighborhoods around the city for influence and rewards. The identities of the rogues are hidden, adding an element of bluff to the game. Weak rogues can be cast into the River Seine and replaced with more powerful operatives such as defrocked priests or pickpockets, each with their own special abilities.
Meanwhile, the Penniless King wanders about the city, triggering standoffs between the gangs of rogues. During a standoff, the identities of the rogues are revealed and their strength compared to see who wins or loses Renown, needed to win the game.
The Court of Miracles was created by Vincent Brugeas and Guilhem Gautrand. The game includes 1 game board, 62 wooden tokens, 80 other tokens, 29 cards, 1 cloth bag, and 1 Penniless King marker. It is intended for 2 to 5 players, ages 10 and up, and plays in under an hour. MSRP is $39.99..
Click on gallery below to see some components from the game.
Earlier this year, Lucky Duck announced a deal to produce Artipia Games' Rush M.D. (see "Lucky Duck Games Will Release 'Rush M.D.'").