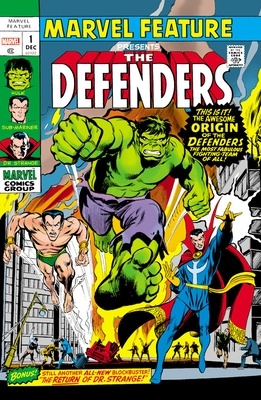 Marvel Comics announced
The Defenders Vol.1 Omnibus
for release on April 20, 2021.
Doctor Strange, the Hulk, the Sub-Mariner, the Silver Surfer and Valkyrie join together to protect the world from a dimensional crisis as they battle villains like Dormammu, the Nameless One and the Enchantress. This classic The Defenders hardcover volume features the writing of Marvel greats like Roy Thomas, Steve Englehart, Len Wein, Tony Isabella, Chris Claremont, Stan Lee, Steve Ditko, Dennis O'Neil, and Bill Everett as well as the art of Sal Buscema, Ross Andru, Bob Brown, Gil Kane, Jim Starlin, and Jack "King" Kirby. It collects Sub-Mariner (1968) #34-35, Marvel Feature (1971) #1-3, Defenders (1972) #1-19, Giant-Size (1974) #1-2, and Avengers (1963) #116-118 with material from #115 into a single volume.
The Defenders Vol.1 Omnibus will have a page count of 680-page volume and retail for $100.00.
Marvel Comics also features writer Roy Thomas in King-Size Conan #1 for release in December (see "Marvel Pays Tribute To 'Conan' With An Issue Fit For a King").