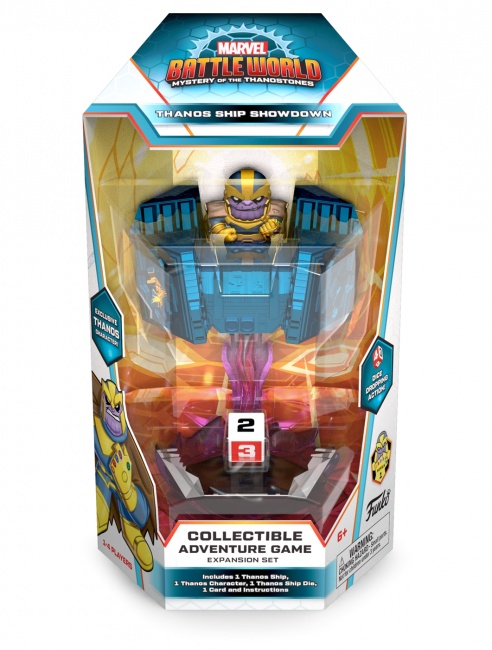 Funko, Inc. has announced two expansions for its
Marvel Battleworld: Mystery of the Thanostones
collectible game, both releasing into the hobby channel in November:
Thanos Ship Showdown
and
Travel Portal – Gold Ultron
.
The Marvel Battleworld: Series 1 Thanos Ship Showdown adds a new, exclusive version of Thanos to the game, fighting from his flagship. Thanos' ship doubles as a dice tower for the set's Thanos Ship die and also acts as a damage tracker during the game. When using this expansion, players must confront the ship in addition to thwarting the plans of Thanos.
The expansion comes with 1 Thanos Ship, 1 Thanos Character, 1 Thanos Ship die, and 1 card. Supports games with 1 to 4 players. Intended for ages 6 and up. MSRP is $14.99.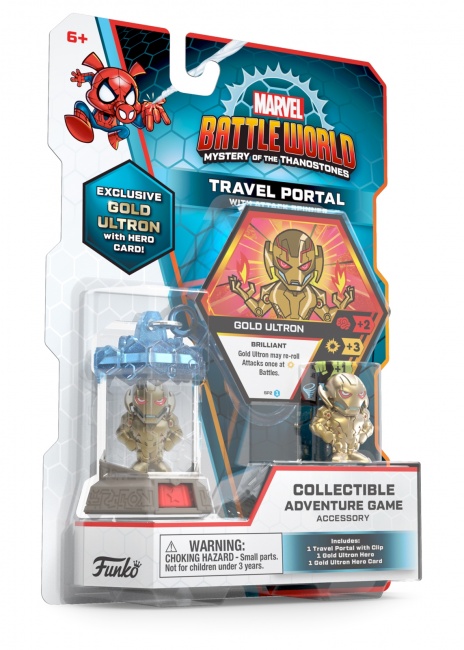 The
Marvel Battleworld: Series 1 Travel Portal – Gold Ultron
offers a new accessory to help fans take their hero with them. Designed to clip onto a bag, the Travel Portal can hold one character. The base of the Travel Portal features a spinner that can replace the Attack Die when playing the game. In addition, an exclusive Gold Ultron character and hero card are included.
This set includes 1 Travel Portal with clip, 1 Gold Ultron Character, and 1 card. MSRP is $9.99.
Released earlier this year, Funko's Marvel Battleworld allows players to confront Thanos using collectible miniatures representing Marvel characters, sold in blind packaging (see "Funko Announces 'Marvel Battleworld: Mystery of the Thanostones'").