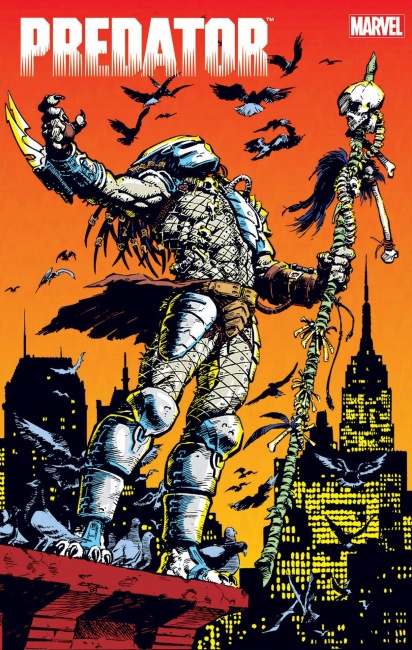 Marvel Comics announced
Predator: The Original Years Omnibus Vol. 1 HC
for release in July.
The Predator franchise is on the cusp of making their Marvel debut as the dedicated space hunters will be premiering in new comics starting in 2021 (see "Marvel Comics Acquires 'Alien', 'Predator', and 'Alien vs. Predator' Franchises"). The Predators have already enjoyed a long legacy in the comic book world since the release of the 1987 film, and this new volume brings old and new readers up to speed on some of the tales told thus far. This huge collection includes Predator (1989) #1-4, Predator 2 #1-2, Predator: Big Game #1-4, Predator: Cold War #1-4, Predator: The Bloody Sands of Time #1-2, Predator: Race War #1-4, Predator: Bad Blood #1-4, Predator: Invaders From the Fourth Dimension, Predator: Dark River #1-4, Predator: Strange Roux, and Predator: Kindred #1 with additional material from Dark Horse Presents (1986) #46, #67-69 and #119; Dark Horse Comics #1-2, #4-7, #10-14, #16-18 and #20-21; and a Decade of Dark Horse #1.
Predator: The Original Years Omnibus Vol. 1 HC features various writers and artists. This volume will have a direct market cover done by Chris Warner and the standard cover by Iban Coello. Retail price for this item has not been released as of yet.
Click on Gallery below for full-size images!