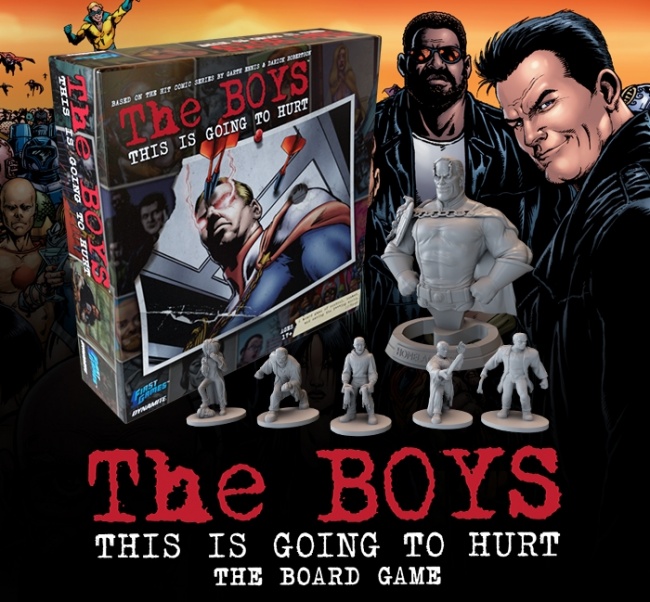 1First Games, the game-development division of 1FirstComics, is producing
The Boys: This is Going to Hurt – The Board Game
, based on the Garth Ennis and Darick Robertson comic book series from Dynamite Entertainment. 1First Games is also offering a referral bonus to retailers to support its crowd-funding campaign.
In the game, the players act as CIA agents on a mission to eliminate the super-powered Homelander. To accomplish this, they must first recruit a team of "Supes" through blackmail or raw power, and occasional use of Compound V. Once they are ready, a player can pit their team against Homelander. The game is competitive, and players can hijack each other's resources to bolster their own plans.
The Boys: This is Going to Hurt was created by Jon Levin, Nick Accardi, and Joshua Stilts. It will be the first title published by 1First Games. It will include 1 game board, 6 player standees, 279 cards, 171 tokens, 16 custom dice, and 5 player boards. It is intended for 2 to 5 players, ages 17 and up, and takes between 60 to 120 minutes to play. This game will retail for $60.
1First Games is raising funds to produce the game through a Kickstarter campaign that reached its $50,000 funding goal in the first three days. The campaign also offers an exclusive deluxe edition featuring upgraded components and plastic miniatures instead of standees.
To attract support from game retailers, the company is offering a 10 percent referral bonus for any backer that uses that retailer's unique code. In a press release, company co-owner Joshua Stilts explained the motivation behind the program, saying, "We wanted to give retailers a way to participate in the success of our campaign and not require them to spend money for a product that's still months from shipping. This way, we hope to be known as a retail-friendly team that understands we're all going through this together and hopefully this helps keep their doors open."
Dynamite recently released the seventh issue of The Boys: Dear Becky (see "Preview: 'The Boys: Dear Beck' #7"), and The Boys Omnibus Vol. 1 collected edition reached the #3 spot on ICv2's list of top-selling Graphic Novels in October (see "Top 20 Graphic Novels – October 2020"). Earlier this year, Amazon announced plans for a spinoff of its version of The Boys following the launch of S2 (see "'The Boys' Spinoff in Development").
Click Gallery below to see full-size images!