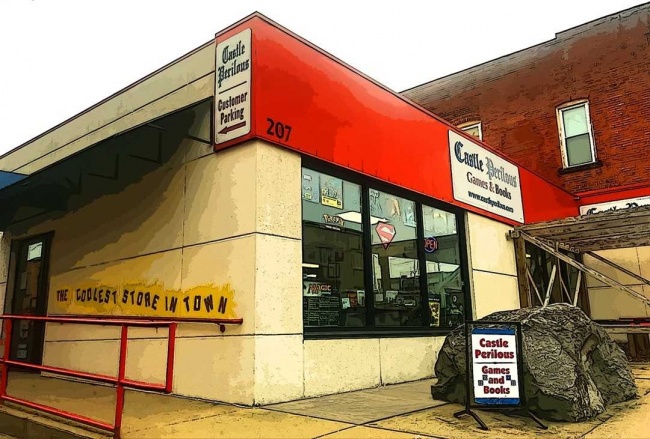 Rolling for Initiative is a weekly column by Scott Thorne, PhD, owner of Castle Perilous Games & Books in Carbondale, Illinois and instructor in marketing at Southeast Missouri State University. This week, Thorne updates the status of the Weis/Hickman lawsuit against Wizards of the Coast, and gives kudos to distributors.
In an update from the lawsuit front, Margaret Weis posted on her Facebook page that the lawsuit she and Tracy Hickman filed against WotC has been dismissed (see "Margaret Weis and Tracy Hickman Sue Wizards of the Coast Over Cancelled 'Dragonlance' Books"). For those that do not remember, Weis and Tracy Hickman filed suit against WotC when the company refused to approve any future drafts of a proposed Dragonlance novel series, effectively killing the project and a pretty substantial amount of revenue for the authors. From a closer reading of the legal brief filed with the lawsuit (and as I have stated before; I am a layman, not a lawyer), the dispute arose after WotC changed editors on the project and the new editorial team raised concerned regarding "various sensitivity issues ranging from the use of love potions in the story, as referenced in the 5E Dungeon Masters Guide, to concerns of sexism, inclusivity and potential negative connotations of certain character names". Again, according to the legal brief, despite extensive rewrites by Weis and Hickman, in one case 70 pages worth of material rewritten, WotC in August of 2020 decided not to approve any further drafts, effectively ending the project.
In her discussion of the lawsuit, author Jennifer Povey commented that she doubted the lawsuit would ever come to trial as most author-publisher disputes of this sort generally get settled before actually going to trial and although Weis does not say so in her Facebook post, some other posts on social media I have seen indicate the lawsuit was dismissed by the plaintiffs, which would indicate that, as Povey noted, Weis, Hickman and WotC all came to some mutually acceptable out of court agreement that will, as Weis says allow for "exciting news in the weeks to come" although I would be that some form of non-disclosure agreement will prevent either Weis and Hickman or WotC discussing the agreement.
On a pretty much totally unrelated topic, I have been pretty impressed with the performance of our distributors during these last few weeks before Christmas. We primarily use Diamond, Southern Hobby, Alliance, ACD, and Asmodee, and all of them have done an exemplary job of getting orders out to us in a timely basis. Generally, in order to capture the weekend sales these past few weeks, we put orders in with Diamond, Alliance, and Asmodee through their various websites on Sunday night in order to maximize restocks from sales over the weekend and we generally receive those reorders by Thursday of the same week. ACD we put in orders through a sale rep on Tuesday and receive our orders by the weekend as well. Because of our location, Southern Hobby does even better for us and has even covered the cost of a couple of Saturday deliveries this holiday season.
Though I have not put an order in with them for quite some time, I imagining Peachstate Hobby Distribution and Mad Al's are bending over backwards to get their orders out as quickly as possible. Games Workshop is doing a great job getting new releases out on time, sometimes getting them in store a week before the street date. Restocks, however, take significantly longer. Anyhow, I wanted to let distributors know how much I appreciate the work they put into get out our orders on a timely basis. Comments? Email them to castleperilousgames@gmail.com.
The opinions expressed in this column are solely those of the writer, and do not necessarily reflect the views of the editorial staff of ICv2.com.