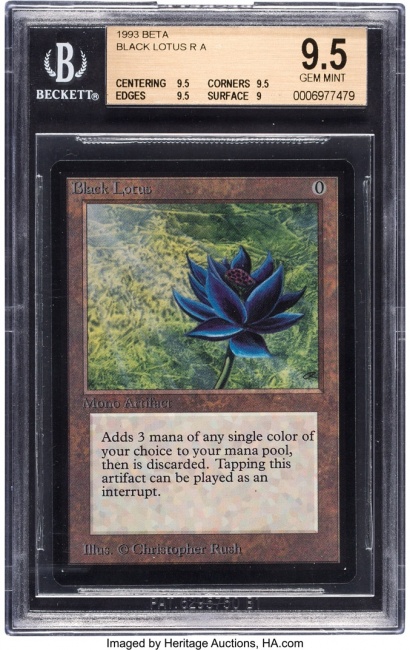 Heritage Auctions announced that it will auction off a Beckett Grading Services (BGS) 9.5-graded
Magic: The Gathering Beta Edition
Black Lotus card at the Comics & Comic Art Signature Auction on January 14-17 in Dallas, Texas.
The Beta Black Lotus is one of the most prized Magic cards in existence. Classically, the Beta Black Lotus had been more sought-after than the Alpha Black Lotus, until recently, because the Alpha version had more rounded corners than standard Magic cards, thus making it illegal in Vintage tournament play. There were only 3000 Beta Black Lotus cards printed with a BGS population of 57 graded at 9.5. This is an extremely rare Magic card in high-grades because it was played in tournaments more than the Alpha version, with only four known in a Pristine 10 grade. A BGS-graded Pristine 10 copy was offered back in 2014 (see "'Beta Black Lotus' for $100,000?"), but very few high-grade Beta Edition Black Lotuses have reached market since then.
Along with the Beta Black Lotus, Heritage is also auctioning off a Magic: The Gathering Collectors Edition Sealed Box Set from 1993. This set contains all 302 original Deckmaster series cards, except they are printed with squared corners and a different backing. There were approximately 9,000 of these sets produced in December 1993, and unopened sealed sets are a rare find.
Click on Gallery below for full-size images!