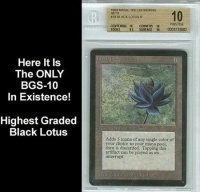 Is
a Magic: The Gathering "
Beta Black Lotus" card worth $100,000? Pristine Comics in Federal Way, Washington is asking that for the only known BSG10-rated copy, which is listed on both eBay and its website.
Pristine Comics, which is owned by parent company West Coast Sports Cards, deals in collectible sports memorabilia, comics, toys, and trading cards, and was the seller of the recent record-breaking $3.2 million
Action Comics
#1 (see "
The First $3 Million Dollar Comic!
").
The grading on the Beta Black Lotus was done by Becket Grading Services, a division of Beckett Media, which has been publishing card price guides since 1984. The description on the Pristine Comics website argues that BSG has more comprehensive and strict guidelines than other professional grading services such as Professional Sports Authenticators (PSA) and Sportscard Guaranty Company (SGC).
According to the BGS website, a Pristine 10 grade requires the following:
Centering: 50/50 all around on front. 60/40 or better on back.
Corners: Perfect to the naked eye and Mint under magnification.
Edges: Perfect to the naked eye and virtually free of flaws under magnification.
Surface: No print spots. Flawless color, devoid of registration or focus imperfections. Perfect gloss, devoid of scratches and metallic print lines.
"To compare, there is only one BGS-10 Beta Black Lotus," says Pristine Comics' description. "There are 34 PSA-10's of this same card."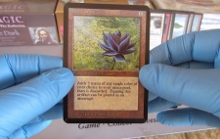 The Black Lotus cards from the first
Magic: The Gathering
sets have been in the news lately because of a YouTube video posted on October 12, in which user openboosters was filmed opening a vintage
Magic: The Gathering Alpha Starter
and finding an Alpha Black Lotus. That version is extremely valuable, though his card was not in as high condition as the card that netted $27,000 last November (see "
'Alpha Black Lotus' Sells for $27,302
"). The video has had more than 2.1 million views in five days. The alpha set, released first, was about three times as rare (only one third as many printed) as the beta set.
The Pristine Comics listing on eBay is for "Buy It Now" at $100,000, and also asks for "best offer," an indication that the company may not expect it to sell at the "Buy It Now" price.