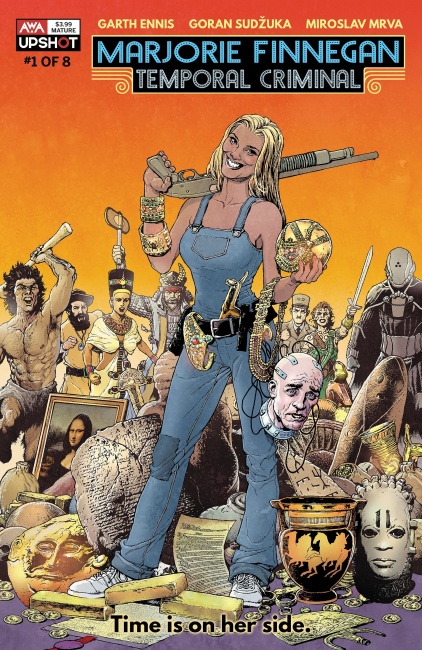 AWA Studios announced
Majorie Finnegan
#1 for release on May 5.
The Boys
creator Garth Ennis, artist Goran Sudzudka, and colorist Miroslav Mrva have created a new eight-issue sci-fi series for AWA Studios.
Majorie Finnegan
is about a temporal criminal who bounces from era to era, stealing her way through history. Her partner, Tim, is talking head with a sour disposition. In the first issue, her trail of larceny leads to a run-in with a time cop who's looking to bust her for her crimes against the time-space continuum.
"Every few years, Garth [Ennis] creates a game-changing story that locates the pulse of popular culture and slices it open," commented Axel Alonso, head of AWA Studios. "
Marjorie Finnegan
is his next masterpiece, a hard-charging, sci-fi romp, featuring a lovably flawed protagonist, perfectly realized with co-creators Goran Sudzuka and Miroslav Mrva."
The first issue features covers by Andy Clarke and Mike Deodato, and will retail for $3.99 upon release.
AWA Studios also released a preview of
The Resistance: Uprising Vol. 2
#1 (see "
Preview: 'The Resistance: Uprising' Vol. 2 #1
").
Click on Gallery below for full-size images!