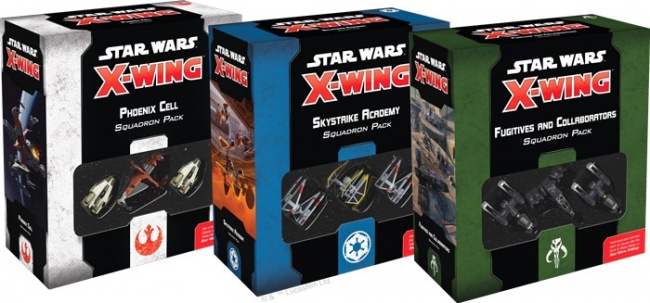 Fantasy Flight Games unveiled three new squadron packs for
Star Wars: X-Wing
miniatures game for release on March 26.
The Phoenix Cell Squadron Pack adds a A/SF-01 B-Wing miniature and two RZ-1 A-Wing miniatures in bold new paint schemes to games of Star Wars: X-Wing. These ships are piloted by early heroes of the Rebellion such as Hera Syndulla and Ahsoka Tano. This pack includes 10 RZ-1 A-wing ship cards, 4 A/SF-01 B-wing ship cards, 36 upgrade cards, and 7 Quick Build cards along with the three miniatures.
Skystrike Academy Squadron Pack comes with features one TIE/D Defender miniature and two TIE/in Interceptor miniatures. It features Imperial pilots such as Vult Skerris and Ciena Ree that have abilities and upgrades based on their characters in Star Wars: Rebels and Lost Stars. This expansion comes with the 3 miniatures, 10 TIE/in Interceptor ship cards, 5 TIE/D Defender ship cards, 35 upgrade cards, and 6 Quick Build cards.
In the Fugitives and Collaborators Squadron Pack, players will find one HWK-290 Light Freight miniature and two BTL-A4 Y-Wing miniatures. This pack revolves around wanted criminals, such as Kanan Jarrus and Arliz Hadrassian from The Last Padawan and Bloodline. It comes with the 3 ship miniatures, 9 BTL-A4 Y-wing ship cards, 4 HWK-290 ship cards, 37 upgrade cards, and 4 Quick Build cards.
Each of these sets retail for $49.95.
Fantasy Flight Games also released six new ships drawn from each era of films, coming to Star Wars: X-Wing in Q4 2020 (see "New Ships Join the Fight in 'Star Wars: X-Wing'").
Click on Gallery below for full-size images!