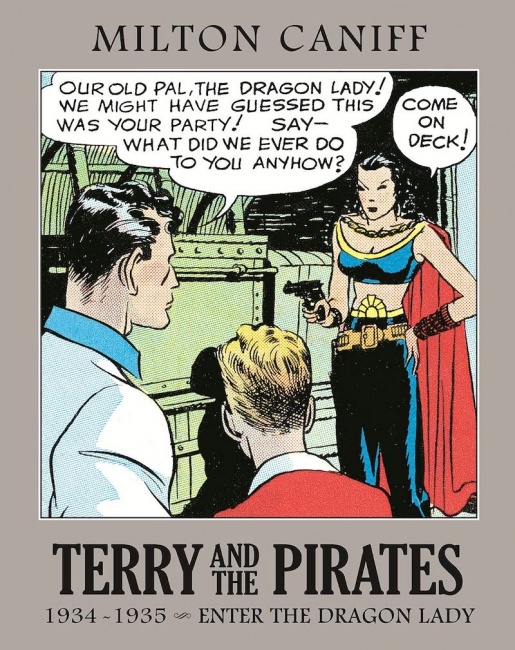 The Library of American Comics (LOAC) and its European comics counterpart, EuroComics, which were published by IDW up to now, will be moving to Clover Press, starting with the new Terry and the Pirates collection, according to Dean Mullaney, the co-founder and creative director for both lines.
"Moving forward it's clear that Clover Press shares our passion for this uniquely American artform," Mullaney told ICv2. "LOAC has rededicated itself to preserving the history of classic newspaper comics one strip at a time. We consider Clover to be the primary home base for the Library of American Comics, as well as EuroComics, and look forward to announcing our new projects next spring. Our existing series For Better or For Worse and Steve Canyon will continue at IDW."
The Library of American Comics' first series was a six-volume collection of Milton Caniff's Terry and the Pirates, which was published by IDW from 2007 to 2009. The first LOAC project at Clover will be a new edition, the 13-volume Terry and the Pirates: The Master Collection, which will launch in March 2022. The new edition is reproduced from Caniff's own collection of color proofs, which were unavailable when the first collection was being put together. Each of the first 12 volumes of the new collection will be a 10" x 14" hardcover and will contain a full year of the comic. Volume 13, by Mullaney and LOAC co-founder Bruce Canwell, will be a history of the strip and a look behind the scenes. The first volume has an MSRP of $120.
"We are proud to partner with Dean and the LOAC on this project, and are committed to publishing the entire series," said Clover Press Publisher Hank Kanalz. "We're in discussion with Dean on additional special projects in the coming years."
Mullaney launched EuroComics in 2014 with Hugo Pratt's Corto Maltese, which was published by IDW (see "Hugo Pratt's 'Corto Maltese'").
Clover Press was established in 2019 by Ted Adams and Robbie Robbins, the founders of IDW (see "IDW Founders to Run New Book Publisher").