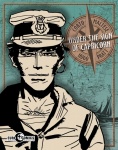 IDW Publishing has announced it will release a newly translated, complete collection of Hugo Pratt's
Corto Maltese
as the premiere release for its new EuroComics imprint. The new imprint will be edited by Library of American Comics' Dean Mullaney.
Though this is not the first English release of the classic Italian comic property (NBM Publishing translated and published several stories in the 1980s), it will be the first complete collection, a planned 12 volume set, to see English language release. The first of the oversized black and white volumes,
Corto Maltese: Under the Sign of Capricorn
, will be released in December 2014. The first volume collects six inter-connected short stories: "The Secret of Tristan Bantam," "Rendez-vous in Bahia," "Sureshot Samba," "The Brazilian Eagle," "So Much for Gentlemen of Fortune," and "The Seagull's Fault." The second volume will release in Spring 2015.
The new translation will be done by Simone Castaldi, Associate Professor of Romance Languages and Literatures at Hofstra, author
of Drawn and Dangerous: Italian Comics of the 1970s and 1980s
, and IDW EuroComics editor Dean Mullaney.
The series, which Pratt began in 1967, follows sailor-adventurer Corto Maltese, a sea captain of few words on his voyages during the early 20th Century. The series deals with fate and existential questions intermixed with historical adventure in a series that set the standard high for adult adventure comics in Europe.