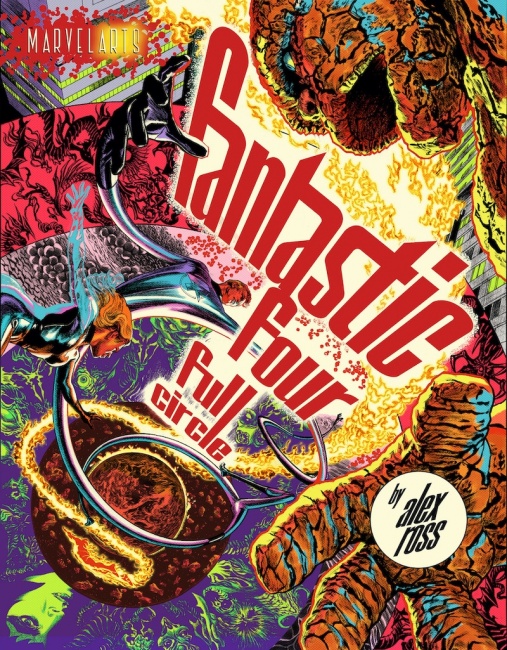 Abrams ComicArts is launching MarvelArts, a new line of Marvel graphic novels, with
Fantastic Four: Full Circle
, by Alex Ross. This is the first time Marvel has licensed a graphic novel to another publisher in over four decades.
Abrams described MarvelArts as "an exciting new graphic novel collaboration between Marvel Comics and Abrams ComicArts." ComicArts already publishes books about the history of Marvel comics and films (see "ComicArts Goes Deep into Marvel History in Fall 2021").
Fantastic Four: Full Circle was acquired and will be edited by Abrams ComicArts Editorial Director Charles Kochman, who worked with Ross when he was an editor at DC. Marvel VP of Publishing Tom Brevoort will work with Kochman on the book.
Abrams will publish Fantastic Four: Full Circle as a jacketed hardcover with a trim size of 8.5" x 11", the same size as the Marvel Graphic Novel line of the 1980s. The 64-page book will include a newly painted, full-color poster showing origins of the Fantastic Four and will have an MSRP of $24.99.
This is the first original graphic novel that Ross has both written and illustrated in over 30 years as a comics creator. The story pits the Fantastic Four against a plague of parasites bearing negative energy.
"Alex and I have been working together for close to 30 years, when I was an editor at DC Comics and hired him to paint his very first book cover back in 1993, before Marvels was published," Kochman said in the announcement. "In Fantastic Four: Full Circle, Alex revisits a classic Stan Lee–Jack Kirby comic from the 1960s and introduces the storyline for a new generation of readers."
"This is the Fantastic Four story I have been wanting to tell for years, and visually it is one of the greatest artistic experiments I have attempted," Ross said of the work.