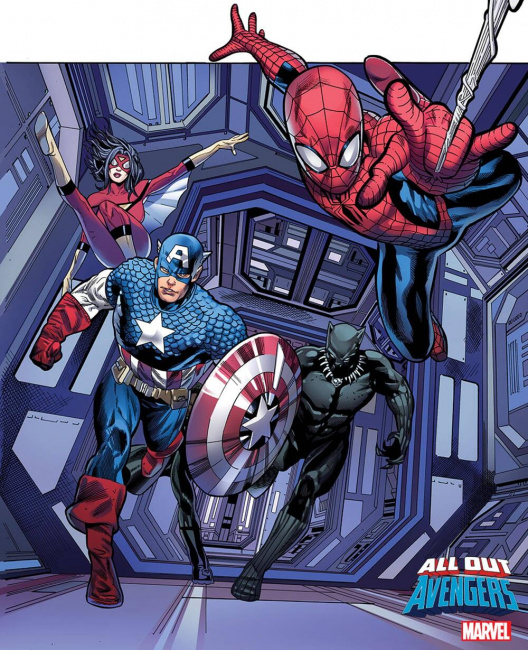 At Marvel's FanExpo Philadelphia panel on Sunday, Marvel Editor-in-Chief C.B. Cebulski announced a new ongoing Avengers series that will include the familiar lineup, a new villainess, and nonstop action.
All-Out Avengers, written by Derek Landy with art by Greg Land, will debut in September. The first issue stars Captain America, Iron Man, Thor, Spider-Man, Captain Marvel, Black Panther, Blade, and Spider-Woman, all of them thrown into unexpected chaos by the advent of a new villainess.
"When Tom Brevoort approached me with this concept, I thought it was an inspired idea, a slice of creative genius, and also totally unworkable...!" Landy said in a statement accompanying the announcement. "The trick was to work within the confines inherent in the concept, but also to find a way to deliver what everyone would expect: a continuity of ideas and the development of an overarching storyline. I needed to find the hook that drags the reader from issue to issue, and I figured the best way to do that was to put the Avengers in the exact same situation as the reader: they are aware that this is happening, but they don't know why..."
Landy's writing credits include Captain America & Iron Man and 2019's Falcon & Winter Soldier (see "'Falcon & Winter Soldier'"). Land is a veteran Marvel cover and interior artist who recently created a set of Spider-Gwen covers (see "Preview: 'Spider-Gwen: Gwenverse' #1 'Homage' Variant Covers by Greg Land").