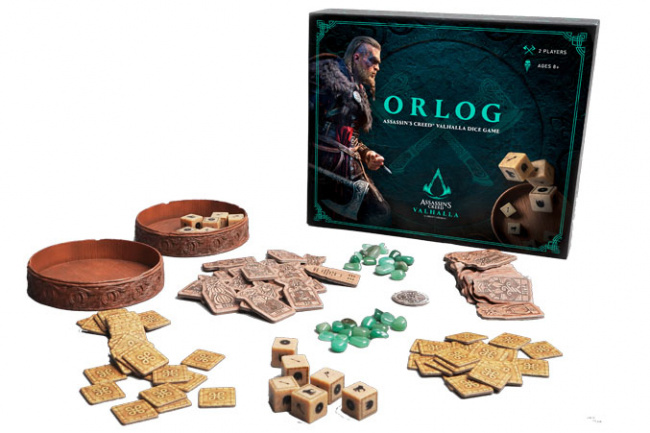 Hachette Boardgames announced
Orlog: Assassin's Creed Valhalla
by Pure Arts, the tabletop version of the dice game from the
Assassin's Creed Valhalla
video game, into retail on June 8, 2022.
This game is a duel between two players that is decided by rolling dice and invoking God Favors. Each round players can roll up to three times, and choose which dice to keep and which dice to re-roll in-between their rolling turns. They can also choose one God Favor to invoke, which adds effects to the dice. The die rolls resolve at the end of the round, which can manifest in damage that is dealt or blocked and tokens that are gained or stolen. The first player to reduce their opponent to zero health wins.
The game supports two players, ages 8 and up, and plays in 10-15 minutes. It will retail for $39.99.
Hachette Boardgames will also release Akropolis, a new city-building board game by Gigamic, into U.S. retail (see "'Akropolis' into U.S. Retail").