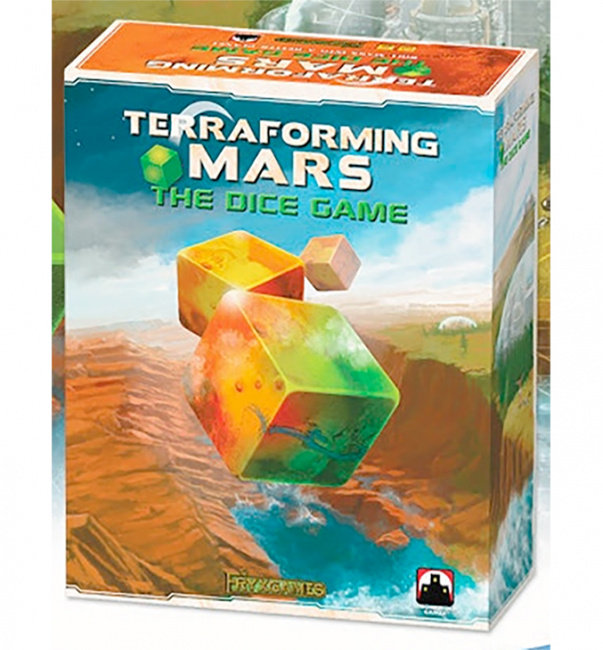 Stronghold Games has announced plans to produce
Terraforming Mars: The Dice Game
, set to release next summer.
Like its namesake, Terraforming Mars: The Dice Game challenges players to oversee the development of a colony on the planet Mars. Each turn, players choose to either produce resources by rolling dice, or to use the resources they have collected to advance the development of the planet and play cards. When Mars has been sufficiently terraformed, the game ends and the player with the most points wins the game.

Compared to the original,
The Dice Game
is designed for quicker-paced play and features simpler mechanics to make it more accessible to new players and offer less downtime. Much of the game play revolves around manipulating dice rolls strategically in pursuit of the player's agenda.
The game comes with 1 game board, 60 custom dice, 157 cards, 83 tiles, and 6 plastic cubes. It is intended for 1 to 4 players with the included solo mode rules, and plays in about 45 minutes. MSRP is $49.99. It was designed by Terraforming Mars creator Jacob Fryxelius and features artwork by Isaac Fryxelius.

The company is raising funding to produce the game through a Kickstarter campaign that has attracted 2,247 backers to pledge $89,502 as of this writing (an average of $39.83 per backer), with 16 days to go in the campaign.
Terraforming Mars is a strong seller for Stronghold Games even after six years on the market, achieving a place on ICv2's top-sellers chart as recently as summer 2021 (PRO Users see "PRO: Board and Card Games Market Report and Top Brands Charts – Summer 2021"). Last year, the company launched a card game version of the game (see "Stronghold Games Reveals 'Terraforming Mars: Ares Expedition'").
Stronghold is also poised to release it's dessert-crafting game Dulce (see "'Dulce' Offers Confection Competition").