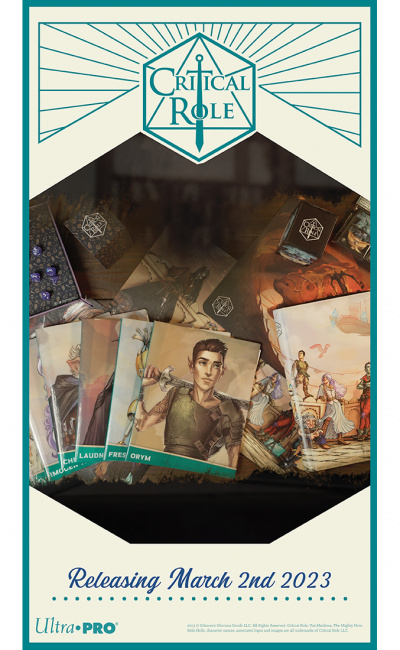 Ultra PRO has announced four new game accessories featuring the characters and symbols of Bells Hells from
Critical Role
, including a book folio, dice tower, folding dice tray, and playmat, produced under license. All four accessories will release on March 2.
The Printed Leatherette Book Folio featuring: Bells Hells Team Lineup from Critical Role is a zippered folio designed to fit a standard-sized tabletop role playing game sourcebook, with exclusive artwork depicting the Bells Hells team and a canvas cover. Inside, the folio has a storage pocket, ten dry-erase compatible single-pocket pages, six 9-pocket card pages, and an elastic loop for holding a pencil or marker. It also comes with a Critical Role branded graph paper notepad.
The Printed Leatherette Dice Tower featuring: Bells Hells Pattern from Critical Role sports a suede leatherette exterior and is designed to act as both a dice storage box and die tower during play. The magnetically closed tower lid doubles as a walled tray to catch dice leaving the tower and has three molded ramps to randomize dice rolls.
The collapsible Printed Leatherette Folding Dice Tray featuring: Bells Hells Pattern from Critical Role provides players a secure rolling surface for their dice. The reversible tray features royal purple leatherette with the printed Bells Hells pattern on one side and purple suede on the other, with magnetic fasteners to hold the tray shape. When collapsed, the tray measures 8.5 x 11 inches for easy storage with game books and papers.
Rounding out the assortment of accessories is the Bells Hells from Critical Role Playmat. Measuring 13.5 x 24 inches, it has a soft fabric top and non-slip rubber backing. The playmat is decorated with Bells Hells art by Hannah Friederichs.
Ultra PRO is also offering a line of accessories featuring the upcoming Dungeons & Dragons: Honor Among Thieves movie (see "Preview: 'Dungeons & Dragons: Honor Among Thieves' Gaming Accessories").