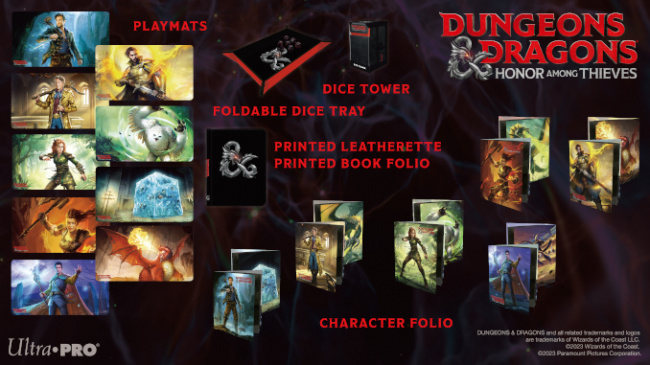 Ultra PRO has announced a new line of gaming accessories based on the upcoming
Dungeons & Dragons: Honor Among Thieves
movie. The Playmats and Character Folios will feature artwork based on the main characters from the movie: Edgin, The Bard (Chris Pine), Forge Fitzwilliam, The Rogue (Hugh Grant), Simon, The Sorcerer (Justice Smith), Holga, The Barbarian (Michelle Rodriguez), Xenk, The Paladin (Rege-Jean Page), and Doric, The Druid (Sophia Lillis). Scheduled to be released in Q1 2023.
Dice Tower (MSRP: $49.49)
Dice rolling and storage
Holds 40+ standard RPG dice
Strong magnetic closure
Foldable Dice Tray (MSRP: $24.99)
Magnetic corners that close in, out, and upside-down
Measures 8.5x11 when flat
High quality materials ensure your gaming table is protected
Printed Leatherette Printed Book Folio (MSRP: $49.49)
Inside of book folio features spot UV detailing
Embroidered red ampersand logo and book name on binding
Back cover is secured in a pocket while the front cover is secured with an elastic strap
Character Folio (MSRP: $10.49)
10 single-pocket pages for character sheets & notes
Two 9-pocket pages for spell cards
Inner pockets in front and back
Sticker sheet for enhanced organization
Playmats (MSRP: $21.99)
Soft fabric top helps protect cards during gameplay
Non-slip rubber backing keeps the playmats shifting during use
Approximately 12"x13.5" and lies flat
Makes an excellent oversize mousepad for your home or office
Click on Gallery below for full sized images.

This coverage is part of RPG Week, celebrating all things RPG at ICv2. For more ICv2 RPG Week articles, click here.