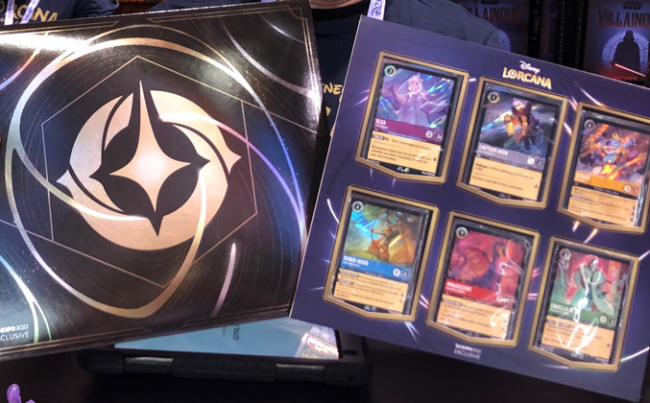 Disney Lorcana
D23 Collector Sets
have sold for over $10,000 on eBay over the last few months of 2022 into 2023.
The Collector Sets featured six cards and two pins that were available only at the Ravensburger booth at Disney Expo 2023 in limited quantities. The six cards featured in the set were versions of Stitch, Elsa, Cruella De Vil, Maleficent, Robin Hood, and Captain Hook. Additionally, there was a Mickey Mouse Brave Little Tailor card available for free to patrons that came to the Ravensburger booth. Ravensburger sold out of these sets, and since then, they have been making waves with collectors on the secondary market.
PSA Gem Mint 10 sets plus the Mickey Mouse promo have been selling for increasing amounts on eBay since release. In November 2022, these sets were selling for between $11,000 and $12,000. More recently, there was a set that went for around $19,000 in January and a designer-signed set (on the box) that sold for $15,000 in February. Ungraded sets have sold between $5,000 and $7,000.
These fairly large realized sale numbers for a brand-new TCG product are perhaps one of the early indicators of the level of enthusiasm surrounding the collectibility of this game, at least amongst the Disneyana collector base. Disneyana collectors are well-known for their voracious appetite for "pieces of the Disney Magic" in the collector world, buying up all sorts of rare items from coins to tiki mugs to movie props. Sales of Disney Lorcana: The First Chapter will likely benefit from having this already established collector base when it hits retail in August 2023 (see "'Disney Lorcana: The First Chapter' Product Line").