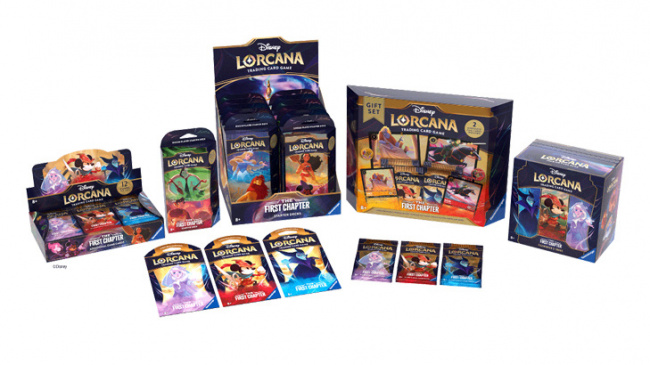 Ravensburger revealed its first details for the
Disney Lorcana: The First Chapter
product line, the first set for their new Disney character TCG, which will release into retail in August 2023.
This long-awaited TCG was first unveiled in August 2022 (see "'Disney Lorcana'"). Disney Lorcana: The First Chapter will feature over 200 cards in the set, and come in four product configurations: starter decks, a gift set, booster packs, and the Illumineer's Trove. Initially, there will be three starter decks available that come with ready-to-play 60-card decks in two of six "inks" (Amber and Amethyst, Emerald and Ruby, or Steel and Sapphire). The decks with also come with a booster pack and game tokens.
Boosters for this set will feature 12 random game cards, which include one foil. Two cards in the pack will be of the following rarities: rare, super rare, or legendary. Boosters will be available in booster displays and in other products like the Gift Set and the Illumineer's Trove. The Gift Set will showcase Mulan and Hades. It comes with 4 booster packs, 2 Tracker tokens, 2 playable foil cards, 2 oversized foil cards, game tokens, and more.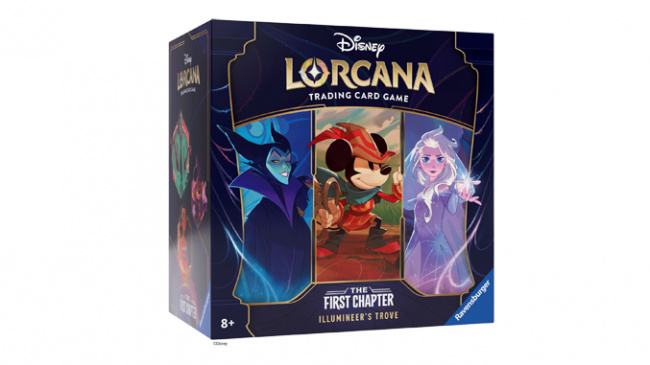 The
Illumineer's Trove
is a premium introductory bundle, comparable to
Magic: The Gathering
's bundles. The game box contains 8 booster packs, 2 deck boxes and a player's guide which is all housed in a themed storage box. Ravensburger also plans to release
Disney Lorcana
-themed playmats, card sleeves, deck boxes and card portfolios at launch.
These products, in the United States, will be launched at FLGS first on August 18, 2023 and then at mass on September 1, 2023. Retailers can expect to see four sets of Disney Lorcana released per year, beyond that point. and this game will be supported by an organized play program.
Click on Gallery below for full-size images!