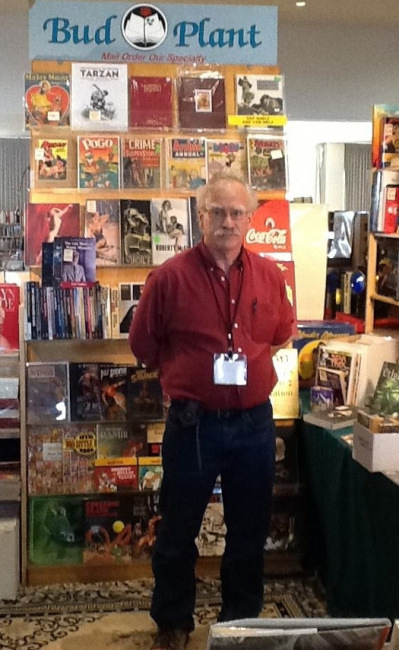 Eisner Award Hall of Fame nominee Bud Plant shares his thoughts on being nominated, our endorsement (see "Bud Plant and Phil Seuling Deserve to be in the Hall"), and the role Phil Seuling played in the origin of the comics Direct Market.
Thanks very, very much for the wonderful piece making to the case for Phil Sueling and me to be inducted into the Eisner Hall of Fame. I have been feeling quite honored simply being nominated, amongst so many fine and deserving names. But your generous article even has me convinced of what a fine thing it would be to be inducted right alongside Phil, who certainly is most deserving for his amazing accomplishments.
As you say, Phil kicked off the entire Direct Market—regardless of what a particular old "friend" of mine claims was actually begun with the underground comics/head store distribution. I was part of that also and I will never agree with that claim. Phil's deal with DC and Marvel was the turning point for both publishers and blossoming new comic stores. That is more than enough for him to deserve the honor.
But as you pointed out, he took over the fledgling New York Comic Art Convention in the late 60s and turned it into THE place for fans and pros to meet. From the late sixties and throughout the seventies it was the hub of comics activity once a year, while little San Diego Comic Con was still a small, regional show.
The New York show was a magnet for everyone who was anyone in comics. Our friend Michelle Nolan, another fan from the San Jose area, as I was, first drove back in 1967 or 1968. Our little San Jose fan group made it to Houston in '68 (without me, at just-turned-16-year-old, my folks refused to me go with them). But in '69 (I had just turned 17), four of us drove to that same Houston show for our first major comics trip. In 1970, I blew off my high school graduation, bought a used Dodge van (financed by my folks), and five of us went all the way, driving first to Oklahoma City for the show there, and onto New York. We took along lots of newly published underground comics, fanzines like
Squa Tront
and
Weirdom
, and plenty of old comics. To turn into more comics for ourselves… and even some original art, that I still own today.
Phil put the FIVE of us up in his 12th floor apartment right off Coney Island. We bunked in his tiny living room while his wife Carole and his two kids became our new best friends. No one else was driving across the country for his show, but that would quickly change in the next few years.
But already, the July 4th NY show was the Mecca that later on SDCC would become, with everyone who was anyone there—Frazetta selling his own
Johnny Comet
dailies for $35 each; Phil selling pages of Roy Krenkel pen drawings for $10 and Gray Morrow originals. Jeff Jones, Vaugh Bode, Barry (pre-Windsor) Smith setting up in their own room with artwork for sale. Old comics were everywhere, though we had to be so careful, our pockets were not deep at all.
I always tell the story that Phil was such a wonderful guy, he sent us home with $500 worth of original art—DC Comics war comics pages by Joe Kubert and Russ Heath, at $5 a page if I remember correctly—on credit. ON CREDIT! To a 17- and 18-year-old (John Barrett, my partner at the time, had a year on me). I can't imagine what the equivalent would be today, he'd just known us for the few days of the show at the time.
That was the beginning of the relationship that he and I had until the end of his life, splitting prints runs on fanzines, as you mention, co-publishing a couple things, swapping undergrounds from my neck of the woods for fanzines and alternative press comics that he had exclusives on (read: supported), such as
Witzend
and
Cerebus
. All on phone calls and handshakes.
Anyway, I've said many times that Phil was a mentor to me. He wasn't perfect, none of us are, but his love of comics sucked in everyone in his orbit and made most of us better people. His daughter Gwenn teaches art and does wonderful cartoon hand-made Christmas cards and we stay in touch, now 53 years later. And she's one of so many comics fans and pros that I can say I've known for more than 50 years now, thanks to meeting them at those early shows, especially his NY. Amazing.
This Talk Back is part of ICv2's Comics Direct Market 50th Anniversary celebration; for more, see "Comics Direct Market 50th Anniversary."
The opinions expressed in this Talk Back are solely those of the writer, and do not necessarily reflect the views of the editorial staff of ICv2.com.