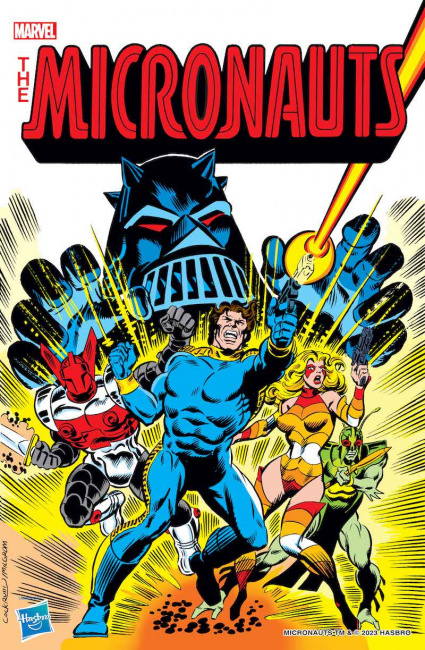 Marvel Comics has announced its second Hasbro license acquisition this week, and this one is of a similar vintage: Micronauts, based on the Mego Micronauts toys.
Like the other license, Rom (see "Marvel to Publish 'Rom' Omnibus"), the Micronauts began as toys but were much more successful as comics characters; the toy debuted in 1976 and lasted till 1980. In the meantime, though, Marvel writer Bill Mantlo's son got a set as a gift, and Mantlo saw the storytelling possibilities. The first Micronauts series, written by Mantlo with art by Michael Golden and a host of others, ran for 59 issues, from 1979 to 1984, and Marvel published several more after that. And like Rom, the Micronauts were a part of the Marvel universe, often crossing over with other characters.
As with Rom, Marvel has announced it will bring back the older comics, with no mention of new titles. The first collection will be Micronauts: The Original Marvel Years, Vol. 1, which will collect Micronauts (1979) #1-29 and annuals #1-2, as well as material from Micronauts Special Edition (1983) #1-5, with writing by Mantlo and art by Michael Golden, Howard Chaykin, Pat Broderick, Steve Ditko, and Rich Buckler The omnibus will go on sale in April 2024 with a main cover by Dave Cockrum and direct market-only covers by Ditko, Butch Guice, and Golden.
In addition, Marvel will publish a facsimile edition of Micronauts #1, by Mantlo and Golden with a cover by Cockrum, in September 2023.
Image Comics and Devils Due also published Micronauts series, as did IDW, which acquired the license in 2015 (see "'Micronauts,' 'Rom,' 'Transformers,' More").
Click Gallery below for covers!