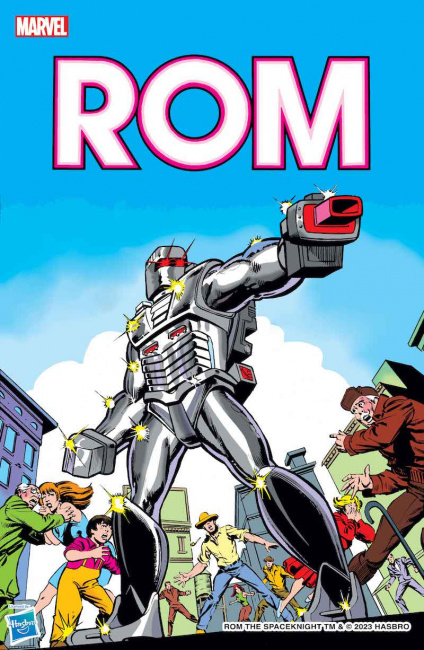 Rom the Spaceknight, who has had a much longer lifetime as a comics character than in his original incarnation as a toy, will return to Marvel Comics later this year.
Rom: The Original Marvel Years Omnibus,
Vol. 1, will go on sale in January 2024. The omnibus will collect
Rom (1971)
#1-29, as well as
Power Man and Iron Fist (1978)
#73. The main cover will be by Frank Miller, and the omnibus will have direct market-only variants by George Perez and Sal Buscema and an X-Men variant by Miller. In addition, Marvel will publish
Rom #1 Facsimile Edition,
a new edition of the first issue of the series, in September 2023.
Rom was originally created as a toy by Parker Brothers in 1979, but it didn't sell well, and in order to build interest, they licensed the character to Marvel. The first
Rom: Spaceknight
comic, by writer Bill Mantlo and artist Sal Buscema, appeared in 1979, and the series ran for 75 issues, finally coming to an end in 1986. Marvel gave Rom a backstory, as a Spaceknight from a distant planet who came to Earth in pursuit of his planet's enemies, the Dire Wraiths. He was integrated into the Marvel Universe and made appearances with the Avengers, the Fantastic Four, the X-Men, and other Marvel characters. 20 years after Marvel's
Rom
series ended, IDW Publishing acquired the license from IP owner Hasbro (see "
'Rom' Series Details Announced
") and published Rom comics and collections from 2016 to 2021.
Click Gallery below for covers!