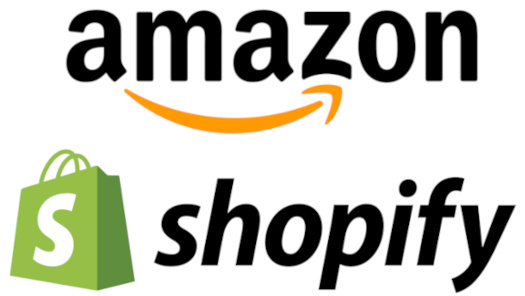 Amazon and Shopify announced a deal last week through which a number of services from the two companies are mingled, a first step down a road that we can't see having a lot of happy endings. The deal revolves around an Amazon "Buy with Prime" app for Shopify merchants, allowing merchants to offer Buy with Prime as an option on product pages in their Shopify-powered stores. Products ordered in this way can be Fulfilled by Amazon under Amazon Prime shipping terms (free freight, fast delivery).
Payment methods for the Buy with Prime orders were unclear, with different takes from the two company's press releases, but it appears all payments will be processed by Shopify Payments, and that Amazon Pay will be offered as an option within Shopify's checkout. Based on the dueling press releases issued by the companies, returns can be handled either through Shopify or by Amazon.
Customer data will be maintained in the Shopify environment. "Most importantly, we're giving merchants access to Prime members while also ensuring they keep 100% control of their brand and their customer data, all within the Shopify admin," Shopify President Harvey Finkelstein said in a statement accompanying the announcement.
We see a number of possible outcomes here, and wonder how this can lead in a positive direction. At its most extreme, could Amazon acquire Shopify, eliminating one of its biggest competitors for third-party merchants? Shopify's market cap today was around $84 billion. Amazon has around $50 billion in cash on its balance sheet, so would have to borrow cash or pay in stock, either likely with ease. Amazon has made major acquisitions in the last few years, including MGM for $8.45 bilion (see "
Amazon-MGM Formalized
"), but a price approaching $100 billion is a big bite, even for them. Regulatory approval could also be a problem.
Another possible outcome is that Amazon learns more about how Shopify operates and who its mutual merchant customers are, and uses the information to compete more effectively and take market share from Shopify. Remember when Amazon was running the Toys 'R' Us e-commerce operation? That relationship dissolved in acrimony (see "
Toys 'R' Us Splits from Amazon
") after Toys 'R' Us sued, alleging that Amazon was violating the exclusivity clauses in its contract. Amazon went on to compete tooth and claw for the online toy business (see "
Amazon Winning Toy Price War
"), and danced on Toys 'R' Us' grave when it was over (see "
Amazon Plans Holiday Toy Catalog
").
Of course, there's the possibility that both companies benefit from the relationship, that merchants like the integration, and that it doesn't expand, break up, or lead to acquisition, but a cooperation between two of the three largest platforms for independent retailer sales to consumers (eBay is the third) just makes us nervous.