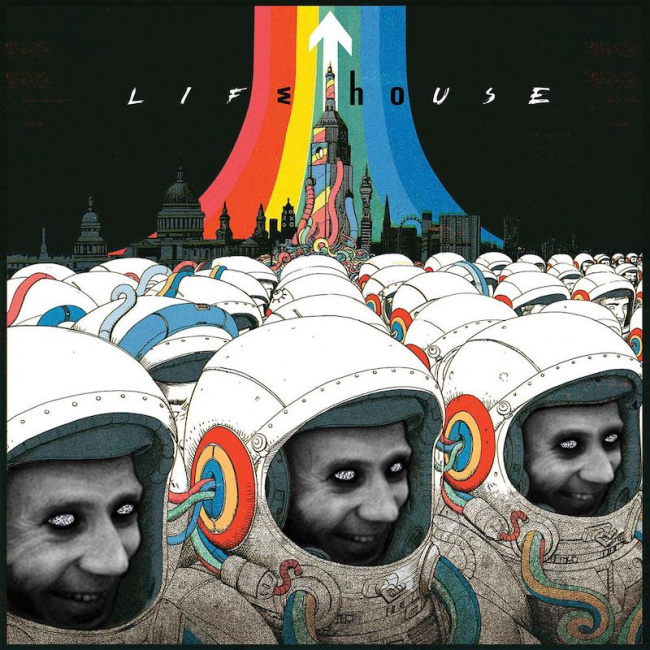 Image Comics will publish
Pete Townshend's Life House,
a graphic adaptation of the 1970 unproduced rock opera written by the guitarist and songwriter for The Who. The adaptation will be written by James Harvey and David Hine, with art by Max Prentis. Image will publish the 172-page hardcover in a 12.25" square format reminiscent of vinyl album covers on December 5, 2023, and in comic shops on December 6, with an MSRP of $49.99.
Originally intended as a followup to The Who's rock opera Tommy, Life House (also styled Lifehouse) is set in post-apocalyptic Britain where environmental catastrophe has forced most people into special suits in order to survive, and their emotions and experiences are controlled by a central authority. Rock music is long gone, but word of a clandestine concert gets out and it literally changes the world. The Who decided against proceeding with the rock opera, but a number of the songs (including the anthemic "Won't Get Fooled Again") appeared on their album Who's Next, and Townshend continued to tweak the concept in different ways over the years.
"Life House has always needed a story that makes sense but without the egos of new creatives who think they can 'fix' what was wrong with my first draft," Townshend said in a statement accompanying the announcement. "The graphic novel is built around that first draft written prior to recording sessions and workshops at the Young Vic in 1971. A second draft with some good ideas from Roger in 1976 added some cohesion and more exciting collateral which really suits the comic format."
Harvey was one of the artists for Doom Patrol: Weight of the Worlds (see "DC's Young Animal Imprint"), and Hine is the writer of Spider-Man Noir.
Click Gallery below for preview!