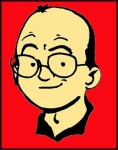 Confessions of a Comic Book Guy is a weekly column by Steve Bennett of Super-Fly Comics and Games in Yellow Springs, Ohio. This week, Bennett offers his tribute to the recently deceased Steve Bates (see "
R.I.P. Steve Bates
").
Steve Bates had been my Comic Book Guy for the couple of years when I had a file at Bookery-Fantasy in Fairborn, Ohio, but I can't say I really got to know him until I started working at Dark Star Books in Yellow Springs. From store door to store door it was probably only a fifteen minutes drive and it would have been easy enough to consider The Bookery direct competition. But our owner Mary Alice Wilson was a big believer in a philosophy of mutually beneficial coexistence, that the more healthy comic book shops an area had the better it was for everybody's business. So instead of pretending they didn't exist we considered them a resource; if we ran out of recent comics instead of waiting for a Diamond reorder we'd check with Bookery to see if we could swap them for some of our comics.
So regular trips to The Bookery became a part of my job description and over long comic book-related conversations I became friendly with Steve. To cement good relations between our stores we had semi-regular lunches where we talked business, commiserated with each other and, I'd like to think, became actual friends. And though I don't think he ever knew it, and I regret to say I never told him, by example he taught me a lot about how to be a good Comic Book Guy. Not about the business of the business or minutia of the medium, but how to deal with people; I already knew how important it was to be patient with customers and how to use active listening, but those were the kind of tricks anyone can learn from any decent book on business. What you can't teach is the boundless enthusiasm Steve had for comics or the way he treated everyone who came into his store like they were his friend.
In 2005 he left Bookery-Fantasy to work for Diamond and gave up writing the weekly "I Think I Can Manage" column for ICv2 and recommended me to take his place. We lost touch as friends do but in March I got on Facebook and Steve was good enough to friend me and I always thought I'd get around to contacting him. Facebook was where I heard the news.
The family will see visitors at 1pm, Saturday Dec. 11, at Bloomfield Presbyterian Church, located north of New Concord, OH, at the intersection of Route 209 and state Route 83. Memorial services will begin 2pm. Memorial contributions may be made to the Madylin and Sophia Bates Education Fund at Century National Bank, 1 West Main St., New Concord, OH 43762.
The opinions expressed in this column are solely those of the writer, and do not necessarily reflect the views of the editorial staff of ICv2.com.