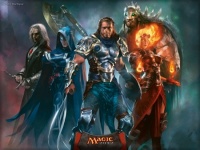 Rolling for Initiative is a weekly column by Scott Thorne, PhD, owner of Castle Perilous Games & Books in Carbondale, Illinois and instructor in marketing at Southeast Missouri State University. This week, Thorne asks game companies for large-scale promo items.
Rather bemused this week, looking at the front window of the store. We have a couple of edge lit signs courtesy of Wizards of the Coast, an edge lit schedule board from WotC and Alliance, a pair of matching illuminated
Yu-Gi-Oh!
signs and two posters and a card poster for
Magic: The Gathering
, including a full length Innistrad window cling. Oh, and a couple of pumpkins for Halloween and four seasonally appropriate graphic novels and board games. But nothing from Paizo, Privateer, Cryptozoic, Mayfair or any of the other major publishers. We have a Games Workshop standee that goes in the window sometimes, but we received it a couple of years ago to announce the release of the
Apocalypse
rules. Since then, nothing from Games Workshop. Ergo, we have items from WotC and Konami in the two large front windows.
Approximately 17,000 vehicles a day pass by the store and see these promotional materials. We do get posters and flyers from other companies, but an 8½" x 11" flyer is too small to warrant space in the window and most of the posters we receive have the logo printed too small for anyone to see from the street. When a car drives by, on average the driver has about two to three seconds to read anything in the windows. Anything up there has to be large in order to attract their attention and let them read it before they drive by. We get in posters on occasion from Paizo promoting
Pathfinder
and Cryptozoic for
World of Warcraft
but nothing that I feel is big enough to catch the driver's eye as they cruise by at thirty miles per hour. It would be nice if Cryptozoic had come up with a nice BIG poster to promote highly recognizable licenses such as T
he Walking Dead
or
Penny Arcade
and a cardboard standee featuring either would be even better. Or how about something promoting their upcoming game based on the Emmy award winning
Big Bang Theory
. In this case, I don't want something for use inside the store but something that uses these well-known licenses that will catch a driver's eye as they are passing by the store. Cryptozoic has the licenses for two of the most popular and widely recognized shows out there and ought to get promotional items out to us to take advantage of this. If I remember correctly, Cryptozoic had a buy five get one free promo for
Penny Arcade
but no posters, no standees, no window signs to take advantage of the comics reported 3.5 million regular readers. But nothing.
While Paizo's
Pathfinder
has nowhere near the awareness that
The Walking Dead
or P
enny Arcade
do, the company does put out the most popular RPG on the market, at least in terms of sales. While it doesn't come close to
Dungeons & Dragons
in terms of recognition among the general public, among the role-playing market, it has significant levels of recognition, such that some form of more permanent promotional materials such as a standee or window cling (of course, the fact that we just registered as a Pathfinder Store may have something to do with the lack of cool promotional materials, but I have not heard of any other stores receiving any). It would just be really nice to put visible promotional material in our front windows from other companies than WotC and Konami, so come on companies, can you help a store out?
The opinions expressed in this column are solely those not necessarily reflect th views of the editorial staff of ICv2.com.