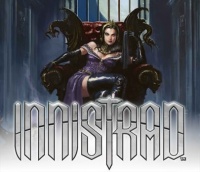 Rolling for Initiative is a weekly column by Scott Thorne, PhD, owner of Castle Perilous Games & Books in Carbondale, Illinois and instructor in marketing at Southeast Missouri State University. This week, looks at a couple of recent Magic: The Gathering promotions.
Well, another October has passed and, from what I have heard anecdotally from other retailers about the country, the harvest proved good with a number reporting sales increase of 20% and more. Here, we have the
Innistrad
release to thank for a lot of that (not that we hit a 20% increase though). This has been the first set for which we have run out of the Buy It by the Box card and are giving away older BIBTB cards with the purchase of a booster box instead.
Wizards of the Coast accompanied a successful October with a couple of in-store promotions, one that worked fairly well for what it was and one that made me go "Huh?" It would have been nice to have more advance notice about either/both of them.
The "Huh" promotion was the
Innistrad
league. Lots of nice support (Tracking poster, weekly changes in play and a window cling) but the reward for playing in the league (a poster) did not exactly excite my players or give them an incentive to come back.
Magic
players are card players and respond to the offer of another card rather than some other form of ephemera. We supplemented the poster with some remaining guards from the
Innistrad
Launch Party and a good thing too, as the first people who earned the poster wound up leaving it on the tables after they left. Kept the card, though and appears enough of an added inducement that most of those who started have shown up for the rest of the league nights. Some form of alternate art card would likely work better as the reward should WotC choose to do this again.
The Halloween Friday Night Magic promotion worked a bit better, though again, some advance notice of it would have helped in promoting it. This was a very nice promotional kit sent to any store that registered a Friday Night Magic event on the Friday before Halloween and consisted of a standee, bags promoting FNM (always welcome) deck boxes (Not as well designed as past deck boxes, these lacked the catches on the insert tabs to hold the box together, making it hard for them to hold together. About half the people we gave them to left them behind.) and bags of
Magic
logoed M&Ms. That last was especially cool as I have known few gamers able to resist candy, though several of our players had a quandary. Do they eat the candy because, well, it's M&Ms or do they keep it for the cool factor, since it has
Magic
logos on it? From what I saw, eating them won out among most of our customers.
I really liked the idea behind both of these events and the support provided was outstanding; the problem is that we received notice and the promotional material only about a week or so before the promotion's launch. We plan our promotions two to three months ahead of time (we were setting up our plans for Christmas in September) so anything like this we receive with this little lead time winds up as an afterthought to the promotions we already have in place rather than the major focal point status it deserves.
Seriously, WotC (and any other company out there, Paizo Publishing, I'm looking at you with your week or so notice of the Beginner Box Bash), if you are going to spend the time to create a cool promotion like this, keep stores in the loop so we can fit it into our promotional schedules and give it a major push rather than treating it as an add-on.
The opinions expressed in this column are solely those not necessarily reflect th views of the editorial staff of ICv2.com.