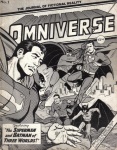 Confessions of a Comic Book Guy is a weekly column by Steve Bennett of Super-Fly Comics and Games in Yellow Springs, Ohio. This week, Bennett looks at digital comics, Ben 10, and the new Captain Marvel.
Last week (see "
Confessions of a Comic Book Guy--The Future of Comics?
") I touched briefly on the topic of Marvel Infinite Comics, the publishers digital-only imprint featuring comics designed specifically for computer tablets. But of course Mark Waid's involvement in digital-only comics goes a lot wider than that; his conviction they are a (if not the) future of comics is such he's sold his own comic book collection to help fund his own online comics project.
Some people however have not cared for this. In a piece on the
Examiner
website by Adam Bernstein titled "Local comic store bans Mark Waid due to digital comics push" we learn, as you might surmise, Phil Boyle of Orlando, Florida's Coliseum of Comics has banned Mark Waid's comics. This of course is his absolute right, but you can't shut out the future by closing the door; the world that's coming is still coming and, as I've previously pointed out, it's coming for you.
As for me, I believe digital comics are the inevitable future of the industry, and as far as I can tell there are only two ways of dealing with it; the way radio adapted to television and the way the movies didn't. In 1947 radio was king and television an upstart medium lots of people considered little more than a gimmick. But slowly its most popular stars and shows started migrating between the two, keeping a presence on both until television became the dominant medium. As opposed to the movies which liked to pretend that television didn't exist to the point, so the story goes, MGM, supposedly banned television sets from appearing in any of their films.
Radio adjusted, the movies recovered but they were never the same. Everybody check your watches; it's 1947. Television is still a decade away, but if you're not thinking about it you're just not thinking.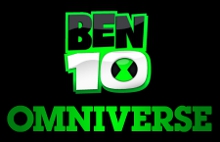 As a grown man (well, as grown as I'm going to get) it's a little embarrassing but I'll confess I still like a good boys adventure cartoon. And maybe because its premise is strikingly similar to
Dial H For Hero
, a favorite comic book from my childhood (which I've been assured is just a coincidence), I've been following Cartoon Network's
Ben 10
since its beginning. Though of course the large number of comic creators in its credits didn't hurt (it was created by the Man of Action team of Joe Casey, Joe Kelly, Duncan Rouleau and Steve Seagle, and recreated as
Ben 10: Alien Force
by the gone too soon Dwayne McDuffie). So I instantly glommed onto a piece by Robert Ito in the Hero Complex section of the
L.A. Times
titled "Ben 10: The Jeremy Lin of the superhero world?," subtitled "For Your Inner Fanboy."
Even I thought of it as just a basic cable cartoon show but apparently it's a global phenomenon, the first proof of which being just how long it lasted. The economic rules of cartoons are ruthless, no matter how successful or beloved once a series has outlived its usefulness (it's generated enough episodes so it can be "stripped," i.e. run seven days a week) it's taken out back and shot in the head. If you include all of its incarnations (
Ben 10
,
Ben 10: Alien Force
,
Ben 10: Ultimate Alien
) the series has run 150 episodes."
According to the piece it made "last year's list of the top 125 global licensors" and even picked up its second Writers Guild of America award, the only episode in its category from a series not created by Matt Groening. In Britain there's a live-action game show called "Ben 10: Ultimate Challenge" and a live-action stage show based on the characters (something that's been mocked on an episode of the show) has drawn audiences of half a million in Australia, New Zealand and Hong Kong.
The reason I've told you all this is because the soon to debut latest version of the show is going to be called Ben 10: Omniverse, which took me aback because that has always been our word. It was coined by the late Mark Gruenwald and was the title of his 1977 fanzine Omniverse, The Journal of Fictional Reality. Defined as the conceptual ensemble of all possible universes, it is a concept that's always meant a lot to me; yes, because it helped explain complicated comic book continuity and by extension gave my life meaning. But it also meant a lot because it was the ultimate expression of my belief that there's always something else, something more than this. And it's only taken 35 years for it to become so much a part of common parlance it's become the title of a kid's cartoon show.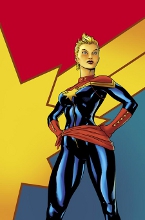 Seeing as how I've written repeatedly about the whole DC Comics/Captain Marvel/Shazam/Marvel Comics/Captain Marvel affair I don't suppose it would hurt (well, it won't hurt me anyway) to mention how Marvel pulled yet another one of their patented switcheroos at WonderCon. They announced that instead of yet again resurrecting Mar-Vell it was revealed Carol Danvers a.k.a. Ms. Marvel would finally get the promotion she's been denied since the 1982 release of Marvel Graphic Novel #1,
The Death of Captain Marvel
. It's a completely obvious move so naturally I didn't see it coming. I'm all for it though; no offense but in spite of impressive branding efforts "Ms." just never took off as a courtesy title. And it's a real nice costume design except for... a sash? You're giving the character a sash... again? Let's just it's only for ceremonial occasions and not part of her everyday uniform.
* For those scoring at home
Pokemon
still has
Ben 10
beat by a wide margin; there are currently 700+ episodes of the series with more coming all the time. And there are still only 26 episodes of
The Adventures of Jonny Quest
, the greatest animated series ever conceived by the mind of man.
The opinions expressed in this column are solely those of the writer, and do not necessarily reflect the views of the editorial staff of ICv2.com.