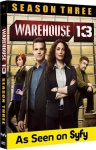 With "Theatrical Releases" in the doldrums it's fortunate that there is a bumper crop of geek-centric "TV on DVD" discs led by the consistently satisfying SyFy series Warehouse 13 and the absurdly brilliant Cartoon Network series Adventure Time, along with Doug TenNapel's Earthworm Jim, the second season of the second G.I. Joe series plus a couple of vintage Doctor Who sagas and a raft of interesting anime releases.
TV on DVD
There are a number of releases of geek favorite shows this week including the Syfy Network's science fiction standby
Warehouse 13: Season 3
(Universal, $49.98), and the first two seasons of
The Big Bang Theory
,
The Big Bang Theory Season 1
(Warner Bros., 374 min., BD $39.99) and
The Big Bang Theory Season 2
(Warner Bros. 558 min., $54.97), which make their debut in the hi-def Blu-ray format. Also the coffin-shaped
Dark Shadows Complete Collection
that was original scheduled for April, is actually coming out this week in all its 131-disc, MSRP $599.98 glory (see "
DVD Round-Up for April 10th
" for a more complete description).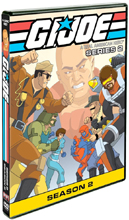 Animated shows of interest this week are headed by
Earthworm Jim: The Complete Series
(VEI, 450 min., $24.98), which contains all 23 episodes of the series created by Doug TenNapel, who also created the video game upon which this 1990s series that aired on the Kids WB was based. This series is definitely worth a look, after all, how many earthworm superheroes are there?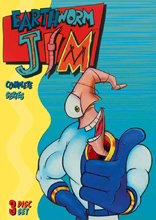 Also out this week is
G.I. Joe—A Real American Hero Series 2: Season 2
(Shout Factory, 420 min., $29.93), which collects the final 22 episodes of the
G.I. Joe
cartoon series produced by DIC Entertainment and ran from 1989-1992. It was a direct sequel to the first
G.I. Joe
series produced by Sunbow Entertainment that ran in 1985 and 1986 and is considered by most fans as an extension of the classic original series.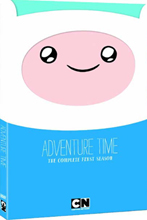 Fans of animated TV shows should definitely check out the "PG" rated Cartoon Network series
Adventure Time: The Complete First Season
(Warner Bros., 286 min., $26.95), which collects all 26 twelve-minute first season episodes of the black comedy, science fantasy series about a 13-year-old boy and his dog created by Pendleton Ward that debuted in 2010.
Adventure Time
does a better job of creating a consistent interesting post-apocalyptic world than almost any big budget SF film you might care to name. Unlike previous releases of this series, this one includes all the episodes of the first season in broadcast order and is the one to acquire.
Other animated releases include the Archie Comics-inspired Jem and the Holograms: Season 3 (Shout Factory, 300 min., $19.93) and Alvin & the Chipmunks: Batmunk (Bagdassarian Productions, 66 min., $14.99) in which the chipmunks attempt to horn in on the "summer of Batman."
The most interesting vintage U.S. TV release this week is the Father Dowling Mysteries: Season 2 (Paramount, 500 min., $29.98) which starred Tom Bosley as the inquisitive Chicago priest. Contemporary series of interest include The Glades: Season 2 (Fox, $39.98) and iCarly: The Complete 4th Season (Nickelodeon, 264 min., $19.99).
The top U.K. releases are two vintage Doctor Who sagas, Doctor Who (Story 047): The Krotons (BBC, 91 min., $24.98), which contains all four episodes of the fourth serial of the sixth season of the long-running science fiction series featuring the Second Doctor (Patrick Troughton), and Doctor Who (Story 072): Death to the Daleks (BBC, 98 min., $24.98), the third serial of the 11th season featuring the Third Doctor Jon Pertwee. It aired in 1974 and featured the popular sidekick Sarah Jane Smith (Elisabeth Sladen).
Documentaries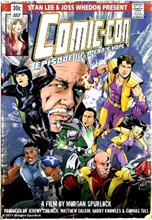 It's rare that this category gets much love, but this week marks the debut of Morgan Spurlock's
Comic-Con: Episode IV-A Fan's Hope
, which earned a strong 83% positive rating on Rotten Tomatoes and does a superlative job of evoking the various elements of what has become one of 21st Century America's most interesting cultural phenomena. This excellent documentary will be available via game and hobby distributors in special Comic-Con editions that come with
HeroClix
figures of Stan Lee, Joss Whedon, Harry Knowles, and filmmaker Morgan Spurlock. Note to fans: Only the hobby edition includes all four figures (see "
Joss Whedon, Stan Lee 'HeroClix' Figures
").
Anime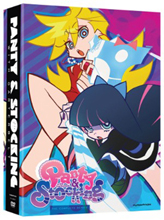 There's a bunch of interesting releases this week led by
Naruto Shippuden Uncut Box Set 11
(Viz Media, "16+," 300 min., $49.95), which contains sixteen more episodes of the popular ninja saga. The
Naruto
manga series (also published by Viz Media) remains the most popular manga in North America.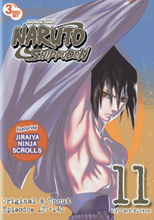 Also new this week is the
Panty & Stocking With Garterbelt Complete Series
(Funimation, "17+," 325 min., $64.98), the outrageous, fan service-filled creation from Gainax that was reportedly conceived during a drunken binge that followed the completion of the
Gurren-Lagann
series. This series features a visual style that pays homage to the UPA-influenced modern American TV cartoons. Gainax fans will want to check this one out, but be forewarned that theme of this series was described by one of its creators as "vulgar and indecent jokes."
Also new and also from is Mahoromatic: I'm Home (Sentai Filmworks, "14+," 50 min. $29.98), a two-part TV special that aired in Japan in 2009. I'm Home can be purchased separately or as part of the Mahoromatic Ultimate Collection (Sentai Filmworks, "14+," 725 min., $59.98), which also contains the 12-episode Mahoromatic: Automatic Maiden series, the 14-episode Mahoromatic: Something More Beautiful series, and the Mahoromatic Summer Special OVA.
There are also some excellent re-priced re-releases led by the vintage Dirty Pair Flash (Right Stuf, "15+," 400 min., $39.99), which collects the three series of classic Sunrise-produced OVAs from the 1990s. Also out on Tuesday is the S.A.V.E. edition of El Cazador de la Bruja Complete Series (FUNimation, ""17+," 650 min., $29.98), the Step Up Love Story Complete Collection (Anime Works, "16+," 120 min., $14.99), and the Oreimo Complete Set (Aniplex of America, "13+," 400 min., $54.98).
Theatrical Movies
The major release this week is American Reunion (Universal, "R," $29.98, BD/Combo $34.98), the fourth and (likely) final film in the American Pie series and the first since 2003's American Wedding. There's a palpable sense of the uncomfortable in this sequel, which could manage only a 44% positive rating on Rotten Tomatoes.
Much better is Being Flynn (Universal, "R," $29.98, BD $34.98), a father/son drama based on Nick Flynn's memoir that gives Robert De Niro an opportunity to remind us all what a talented actor he is in one of those showy roles as a down-and-out eccentric with delusions of intellectual grandeur.

--Tom Flinn

The opinions expressed in this column do not necessarily reflect those of the editorial staff of ICv2.com.