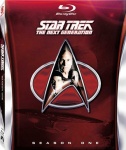 One of the weakest sessions of the summer is leavened by the debut of Star Trek: The Next Generation on Blu-ray, the latest release of the DC Comics-based Young Justice animated series, and the American Blu-ray debut of one of the finest British film noir.
TV on DVD
The top release this week is Star Trek: The Next Generation: Season 1 (Paramount, 1184 min., $129.99), the first BD hi-def release of the second most popular of the Star Trek TV series. Paramount has done an excellent job of creating the hi-def version by going back to the original film elements, and there are 95 minutes of excellent extras included in the Season One set. Still the high price of the set is just the latest example of the exploitation of the devoted Star Trek fan base. I realize and appreciate the extra cost that the studio expended to make this an exceptional hi-def upgrade, an effort that should be reflected in the set's cost. The new ST: TNG Blu-ray looks exceptional--except for the aspect ratio it is hard to tell that this series is 25 years old. But this upgrade in quality, which could justify a 20-30% premium compared with other BD releases, shouldn't have resulted in this set being priced at more than double what similar collections of series from that era cost.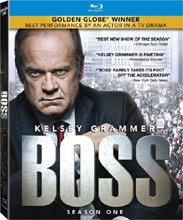 Starz' serial political drama about a fictional mayor of Chicago,
Boss: Season One
(Lionsgate, 450 min., BD $39.97), includes all 8 first season episodes of the series starring Kelsey Grammar that certainly should have been nominated for some Emmys. Gus Van Sant directed the pilot and does manage to elicit excellent performances from a top flight cast, though his pseudo-documentary hand-held camerawork gets tedious in a hurry. The look of the series actually improves in subsequent episodes as the numerous plotlines unfold involving the apparently all-powerful mayor, who receives a death sentence from his doctor in the show's opening scene and is attempting to establish his legacy by completing the expansion of O'Hare, which is being held up by an archeological discovery, and getting his hand-picked candidate elected governor. Grammar displays the requisite combination of glibness, ruthlessness, and Machiavellian cunning to make a believable Chicago Mayor and the script is clever enough to avoid taking a simplistic good versus evil, black and white approach to situations that are fraught with shades of gray.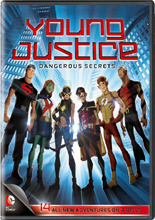 Animated TV shows due this week include
Young Justice: Dangerous Secrets
(Warner Bros., 280 min., $19.97), which includes 13 episodes of the Cartoon Network series that features young versions of DC Heroes, including such second generation heroes as Robin, Superboy, Kid Flash, Aqua Lad, Martian Manhunter, and Artemis. Also out this week is
Hey Arnold!: Season 2, Part
2
(Shout Factory, 450 min., $19.93), which contains 20 episodes of the series created by Craig Bartlett for Nickelodeon that aired from 1996 until 2004.
Geek viewers, who enjoy satirical black comedies will likely enjoy Childrens Hospital: The Complete Third Season (Warner Bros., 154 min., $24.98), which collects the satirical series created by actor/comedian Rob Corddry (The Daily Show) that lampoons all the excesses of the TV's many medical shows. This libidinous look behind-the-scenes of a showplace children's hospital is Swiftian in its approach, and definitely not for the little ones.
Vintage TV series due this week include a DVD-R version of Dave's World: The Complete Third Season (Paramount, 603 min., $34.95), the series starring Harry Anderson that was based on Dave Barry's newspaper columns, the vintage cornpone sitcom, The Real McCoys: Season One (Inception Media, 900 min., $24.98), which starred Walter (Was you ever stung by a dead bee?) Brennan, the syrupy spiritual drama Touched By An Angel: The 5th Season (Paramount, 1242 min., $55.98), and the vintage crime series The Untouchables: The 4th Season, Part 1 (Paramount, 700 min., $39.98) and The Untouchables: The 4th Season, Part 2 (Paramount, 800 min., $39.98).
The top U.K. release is Inspector Morse: Endeavour (BBC, 120 min., $29.99), which includes the current Masterpiece Mystery series featuring the "young version" of Inspector Morris. For fans of British sitcoms, there is the always wry Last of the Summer Wine: Vintage 1993 (BBC, 300 min., $34.98).
Theatrical Movies
It is a very slow week in this category. The top release is the horror movie Silent House (Universal, "R," $30.98, BD $34.98), a remake of the Uruguayan film La Casa Muda, which stars Elizabeth Olsen as a woman trapped inside her family's vacation house. As was the case with Hitchcock's Rope, the directors of Silent House attempted to tell their story in one continuous long take, and, as was the case in Rope, the technique, with its attention-getting limitations, gets in the way of the film's narrative.
Art movie fans will have to be content with Footnote (Sony, "PG," $30.98, BD $34.98), an Israeli film about a dispute between two Talmudic scholars (who happen to be father and son) that manages to be both a clever satire and a poignant drama.
Anime
Not much new this week here either, though the 25-episode
Clannad Afterstory Complete Collection
(Sentai Filmworks, "13+," 625 min., $89.98) is out on Blu-ray a year after it was released here on DVD.
Clannad After story
was produced by the hip Kyoto Animation studio and was based on the
After Story
arc of the
Clannad
visual novel produced by Key for a younger market.
For old school anime fans there is Golgo 13: The Professional (Eastern Star, "16+," $19.95), a new DVD edition of the first Golgo 13 anime feature that was produced by TMS in 1983.
Re-priced re-release bargains due this week include Ai Yori Aoshi: The Complete Series (Funimation, "14+," 900 min., $49.98), which collects the 37-episode anime series produced by J.C. Staff in 2002-2003 and based on the popular romantic comedy seinen manga by Kou Fumizuki that was released here by Tokyopop, the stylish cyberpunk/mecha-themed Armitage III Complete Saga (Funimation, "14+," 317 min., $29.98), which includes the 4 OVAs (1995) plus the Poly-Matrix (1997), and Dual –Matrix (2002) movies produced by AIC, and Otoboku: Maidens Are Falling for Me (Anime Works, "13+," 325 min., $14.99), the visual novel-based harem comedy series produced by Starchild in 2006.
Classics on Blu-Ray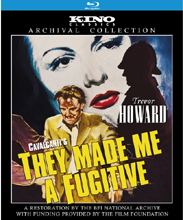 The Brazilian-born director Alberto Cavalcanti, who directed his best films in France and England, has never been given his due by American critics. Cavalcanti, who worked with the experimental filmmaker Marcel L'Herbier in France and the noted documentary director John Grierson in England, brought both an avant garde and documentary approach to his films. Cavalcanti's 1947 film noir
They Made Me A Fugitive
(Kino, not rated, $29.95) ranks as one of the best crime films produced in England in the 20th Century with marvelous shadowy photography by Otto Heller, who also manages to ground the film firmly in the rubble of a postwar London that was far from recovered from the pounding it took during the Blitz. Noel Langley, one of the screenwriters of
The Wizard of Oz
, adapted the film from Jackson Budd's novel
A Convict Has Escaped,
and he doesn't pull any punches in his examination of the black market criminal activity arising from Britain's continued heavy postwar rationing of food and consumer goods. The always reliable Trevor Howard is exceptional as an RAF warhero who gets involved in the black market and then runs afoul of his psychopathic boss. Cavalcanti's use of sound is especially brilliant throughout, with the director sticking to source music rather than going with a blanketing score for most of the film. Cavalcanti's love of English musical halls, which he celebrated in the high underrated
Champagne Charlie
(1944), comes through in scenes set in one of London's most famous venues. Kino's Blu-ray edition does a spectacular job of capturing both the film's noirish visuals and its subtle use of naturalistic sounds and real locations. Film noir fans will want to check out this film that stands with
Brighton Rock
as one of the best examples of British noir.
--Tom Flinn
The opinions expressed in this column do not necessarily reflect those of the editorial staff of ICv2.com.