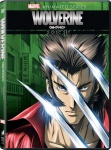 It's not even August yet and already we've reached the "dog days" of home entertainment releases with Tuesday's meager offerings enlivened only by the DVD arrival of two Marvel Anime series, the North American debut of a quirky British science fiction comedy-drama, plus the Blu-ray bows of the original Total Recall and tense train saga from the director of Cape Fear and The Guns of Navarone.
TV on DVD
The top releases in this category are all animated led by Marvel Anime: Wolverine (Sony, 284 min., $19.99). This 12-episode series was produced by anime powerhouse Madhouse and aired in the U.S. on the G4 gaming network. The storyline, which involves Wolverine's hunt for his girlfriend Mariko is based on the same Frank Miller storyline that inspired the Wolverine live-action movie that is about to go into production.
Also available this week is the fourth and final Madhouse-produced Marvel Anime series, Marvel Anime: Blade (Sony, 284 min., $19.99). In this 12-eipsode saga Blade is traveling in Japan when he encounters Deacon Frost, the vampire who killed his mother. While these stylish Marvel Anime series may not please every hardcore Marvel fan, most Marvel maniacs will enjoy seeing a different "take" on these classic Marvel characters and storylines.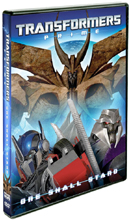 Four of the seven episodes included on
Transformers Prime: One Shall Stand
(Shout Factory, 150 min., $14.97) were previously released with the complete
Season One
set, but the three additional episodes, which conclude the epic struggle between Optimus Prime and Megatron, were the first 3 episodes of
Season 2.
While the partial double dipping is not ideal
,
it does makes sense to include all 7 episodes of the storyline on one disc, especially when they are seamlessly edited together like this. Still some fans of the latest
Transformers
animated series (created by Roberto Orci and Alex Kurtzman) might want to wait until the
Season 2 Complete Set
is released, but for others this is a great
Transformers
saga at a very reasonable price.
The 1990s PBS animated Saturday morning show The Magic School Bus: The Complete Series (New Video, 1050 min., $79.95) includes all 52 episodes of the oft-repeated series for young viewers.
Geek viewers are undoubtedly jazzed about the impending release of Mystery Science Theater 3000: XXIV (Shout Factory, 480 min., $59.97) in which four hapless feature films, Fugitive Alien, Star Force: Fugitive Alien II, Samson Vs. The Vampire Women, and The Sword and the Dragon, all get the heavily satirical MST3K treatment.
The most popular release of the week in this category could be the Hatfields & McCoys Mini-Series (Sony, 290 min., $45.99, BD $55.99), which collects the 3-part History Channel series that starred Kevin Costner, Bill Paxton, Tom Berenger, and Powers Boothe in an action-packed account of American's most famous family feud that set all sorts of viewing records for a History Channel series.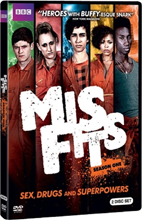 But geek viewers might prefer
The Misfits: Season One
(BBC, 276 min., $24.98), a British science fiction comedy-drama about a group of juvenile offenders sentenced to a work party where they accidentally acquire super powers during a strange electrical storm. The show has already been approved for a fourth season in the U.K., but the first (2009) season is just becoming available here in the States.
Vintage releases this week include Melrose Place: The 7th and Final Season Vol. 1 (Paramount, 802 min., $39.98) and Vol. 2 (Paramount, 754 min., $39.98), which together include all the episodes from the final season of the original Melrose Place primetime soap opera starring Heather Locklear.
Fans of vintage TV mini-series and movies will want to check out The Kent Chronicles (Acorn Media, 568 min., $59.99), which collects three late 1970s telefilms based on the novels of John Jakes about a scrappy clan of Revolutionary War-era patriots. Andrew Stevens stars in the first two film as a young patriot who gets to interact with Paul Revere (played by William Shatner), Benjamin Franklin (Tom Bosley), Sam Adams (William Daniels), and George Washington (Peter Graves).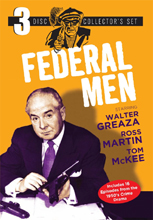 Those who enjoy 1950s TV drama should certainly like
Treasury Men in Action: Federal Men
(Film Chest, 416 min., $24.98), which includes 16 prime episodes from the 189-episode series that aired from 1950 to 1955 and featured lots of top guest stars including James Dean, Claude Akins, Carolyn Jones, Charles Bronson, and Nancy Evans in true-crime dramas drawn directly from the files of the Treasury Department.
Theatrical Movies
Only the slimmest of pickings this week led by the art house gem Le Havre (Criterion, not rated, $28.95, BD $39.95), a gentle comedy drama about an old man who takes in an African boy who is being pursued by French immigration officials.
Anime
It's a very slim week for anime releases, which are led by the first Blu-ray release of
Strike Witches: Season 1
(FUNimation, "17+,"" 300 min., $54.98), which contains both BD and conventional DVD versions of the sexy Gonzo series from 2008 about flying girls who engage in aerial combat with "weapon-enabled" legs, and by the
Hatsukoi Limited Complete Collection
(Sentai Filmworks, "14+," 300 min., $49.98), which collects all 12 episodes of the 2009 anime series from J.C. Staff that is based on Mizuki Kawashita's
Shonen Jump
romantic comedy manga series about the first loves of a group of middle and high school girls.
All the other releases this week have been issued in North America before including the Sacred Blacksmith Complete Series (FUNimation, "17+," 300 min., $49.98), which includes a 12-episode Manglobe series from 2009 that is based on the fantasy light novel series by Isao Miura.
Classics on Blu-ray
With the impending theatrical release of Len Wiseman's remake, Paul Verhoeven's 1990 version of Total Recall starring Arnold Schwarzenegger gets a Blu-Ray release. Total Recall (Lionsgate, "R," BD $34.95) is a very loose adaptation of a Phillip K. Dick novella, which Verhoeven turned into a bloody Schwarzenegger action movie with a subject-appropriate "astronomical" body count. Verhoeven's film is the cinematic equivalent of other 1980s' excesses like "big hair," "shoulder pads," and "Pauly Shore."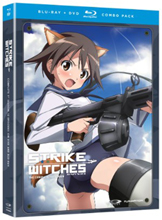 A much more interesting film in many ways is
Flame Over India
(VCI, Not Rated, 129 min., BD $19.99), an epic action film that was released as
North West Frontier
in the U.K. where the interiors were shot at Pinewood Studios. Directed by J. Lee Thompson who went on to direct
The Guns of Navarone
and the original
Cape Fear
,
North West Frontier
maintains a pulse-pounding pace for its entire129-minute running time. Kenneth Moore stars as a British Army Captain charged with getting a six-year-old Hindu prince and his American governess (Lauren Bacall) to safety in the midst of a Moslem revolt. The only way to reach safety is via an ancient locomotive, The Victoria, which has to huff and puff its way through the arid mountains of India's North West Frontier (actually Spain).
Moore and Bacall are great, but the real star of the film is its Director of Photography, Geoffrey Unsworth, who got the absolute most out of the Eastman Color film. The shots of the train rolling through the mountains at dawn and dusk are pure cinematic poetry, and the crowd scenes are deftly photographed with subtle color accents. VCI's Blu-ray features a brilliant restoration of the film's color palette (Eastman Color films are notorious for fading)—and given the age of the original materials (the film was released in 1959), this is one of the best-looking films on disc that I have seen all year--highly recommended for fans of train movies and nail-biting old school action movies.

--Tom Flinn

The opinions expressed in this column do not necessarily reflect those of the editorial staff of ICv2.com.