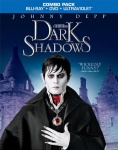 A quartet of underrated and little known feature films including Tim Burton's Dark Shadows, Joe Dante's The Hole, Tsui Hark's The Flying Swords of Dragon Gate, and the neo-noir Thai thriller Headshot leads a full complement of home entertainment releases that also includes a bumper crop of "TV on DVD" offerings.
Theatrical Movies
The major release this week is Tim Burton's Dark Shadows (Warner Bros., "PG-13," $28.98, BD Combo $35.99), which wasn't a hit with the critics (just 38% positive on Rotten Tomatoes) or the public (it was overwhelmed like all the other films released in May by The Avengers), but which has considerable charm and humor. Burton's film is a horror comedy that might not appeal to all the fans of the original Dark Shadows gothic soap opera, but which should eventually find favor as a cult hit on DVD and TV reruns. While Dark Shadows is not without its flaws, it is funny, which is more than you can say about many contemporary "comedies."
Another film that has been largely overlooked and underrated is Joe Dante's The Hole (Big Air, 90 min., $14.95, BD Combo $19.95), a teen-targeted horror suspense film from the director of Gremlins that has been relegated to a direct-to-DVD offering. Perhaps it is because so many modern horror films have gone the way of excessive gore and often ignored suspense in favor the gross out, but it is kind of refreshing to see the cinematic equivalent of the burgeoning category of YA fiction, especially with a veteran director like Dante in control.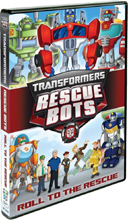 This week also presents us with some excellent foreign films that are sure to please American genre movie fans. Tsui Hark's
The Flying Swords of Dragon Gate
(Indomina, "R," 122 min., $19.97, BD $29.98) is a remake of the classic wuxia film
Dragon Gate Inn
that stars Jet Li. Hark's film won the "Best Director" and "Best Picture" awards at the 2012 Asian Film Awards. This is a film that martial arts movie fans will not want to miss.
Another very interesting release this week is
Headshot
(Lorber Films, "Not Rated," 105 min., $29.98, BD $34.95), a stylish, high-concept Thai neo-noir directed by Pen-Ek Ratanaruang. The ingenious plot follows the story of a police detective who is shot in the head and awakens 3 months later to find that he sees everything upside down. To get revenge on the gangsters who shot him he becomes an assassin who targets those who flaunt their defiance of the law. While this is not a film for the squeamish, it is really well made, and it is easy to understand why this stylish effort has been chosen to represent Thailand in the contest for the "Best Foreign Film" Oscar next year.
TV on DVD
The fall rollout of TV releases continues with a large contingent led by Zooey Deschanel's charming, if sometimes slight, new comedy series New Girl: Season 1 (Fox, $39.98) and the lavishly mounted historical drama Downton Abbey: Seasons 1&2 Limited Edition (PBS, $59.99, BD $64.99). Given that Downton Abbey is the most expensive series ever produced in the U.K., it certainly makes sense to get the high def Blu-ray version.
Other contemporary series out this week include the CW medical/comedy drama Hart of Dixie (Warner Bros., 968 min., $59.98), the popular CBS situation comedy How I Met Your Mother (Fox, $39.98), the Starz cable series set in Miami in 1959, Magic City: The Complete First Season (Anchor Bay, $44.98, BD $54.99), the action-packed Nikita: The Second Season (Warner Bros., $59.98, $69.98), the ensemble comedy series Rules of Engagement: The Sixth Season (Sony, 325 min., $38.99), and the entire 176-episode run of the outstanding medical drama House: The Complete Series (Universal, $199.98).
Among the animated TV offerings this week is Adventure Time: Jake vs. Me-Mow (Warner Bros, 176 min., $24.98), which includes 16 episodes from all four seasons plus the highly coveted "Finn Hat" that comes with the DVD. Other themed animated TV on DVD releases include Batman: The Animated Series—Catwoman (Warner Bros., 66 min., $9.97), and Batman: The Animated Series—Killer Croc (Warner Bros., 66 min., $9.97).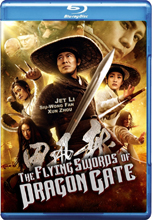 Other key animated offerings include
Thundercats: Season 1, Book 3
(Warner Bros., 220 min., $19.97), which includes the final 10 episodes of the revived
Thundercats
animated series,
Transformers: Rescue Bots—Roll to the Rescue
(Shout Factory, $14.93), a single-disc collection of
Transformers
tales that are rather skillfully tailored for younger viewers. These tales may be a little too juvenile for hardcore
Transformers
fans, but young boys will love them.
Other kid-targeted offerings include V.R. Troopers: Season 1, Vol.1 (Shout Factory, 540 min., $19.93), which collects the initial episodes of the live-action series that spun off from the Mighty Morphin' Power Rangers and aired from 1994-1996, and Big John, Little John: The Complete Series (VCI, 312 min., $24.99), the 1970s NBC kids comedy series about a junior high school science teacher who takes a sip from the fountain of youth and periodically becomes a 12-year-old version of himself.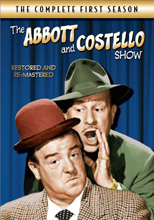 Vintage TV offerings include the rare and interesting
The Abbott and Costello Show: The First Season
(eOne Entertainment, 727 min., $39.98), which includes all 26 episodes of the 1951-1953 series, which had a major influence on the development of TV comedies like Seinfeld in that the show itself was largely a pretext for Lou and Bud to reprise some of the best vaudeville and movie routines.
Other classic TV releases include Bonanza: The Official 4th Season (Paramount, 1420 min., $58.98), and The Six Million Dollar Man: Season 2 (Universal, 1420 min., $39.98).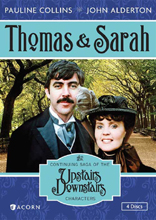 There are a number of excellent offerings from the U.K. led by
Thomas and Sarah: The Continuing Sagas of the Upstairs, Downstairs Characters
(Acorn Media, 653 min., $49.99), which collects the only spin-off from the original
Upstairs, Downstairs
series.
Thomas and Sarah
aired on ITV in 1979, and anyone who enjoyed the original
Upstairs, Downstairs
will likely enjoy this saga of Thomas the chauffeur and Sarah, the house and nursery maid after they left service at Eaton Place in 1910.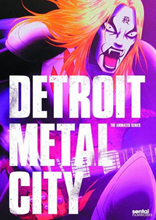 Of much more recent vintage (2011 and 2012) is
Kidnap and Ransom: Complete Series 1 &2
(Acorn Media, 276 min., $49.99), which follows the adventures of a British hostage negotiator played by Trevor Eve. The first series was filmed almost completely in South Africa and features some superb location work, while the second series (each series has 3 episodes) involves a group of tourists kidnapped in India.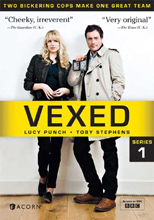 Also of very modern vintage is
Vexed: Series 1
(Acorn Media, 175 min., $29.99), a rather bizarre police procedural "comedy" starring Toby Stephens and Lucy Punch as a mismatched pair of investigators. Punch was replaced by Miranda Raison in Series 2, and it is easy to see why. In spite of some funny bits the chemistry between Stephens, who appears to be way too lazy to hold a real job, and Punch was strained to say the least. Typical of the cynical humor in this series, which deserves high marks for originality if not compassion, is a scene from the first episode in which Stephens and Punch investigate the scene of a murder of a young woman in a nice apartment. Punch, who has just moved to London, immediately starts planning a campaign to rent the prime flat now that its occupant has been murdered.
Anime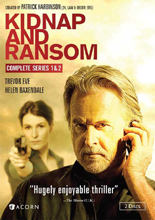 It's a small week for anime releases, which are led by the U.S. release of
Detroit Metal City Complete Collection
(Sentai Filmworks, "17+," 150 min., $29.98), which includes the 12 OVAs based on the manga series by Kiminori Wakasugi (published here by Viz), which also spawned a popular live-action movie adaptation.
DMC
provides an inside look at a successful Death Metal trio, whose members would all rather be doing something else. Each of the 10-15 minute episodes features plenty of heavy metal music, sexual perversion, and enough vulgar language to earn its "17+" age rating several times over.
Also new this week is Mayo Chiki! Complete Collection (Sentai Filmworks, "17+," 325 min.$49.95), a 13-episode 2011 anime series based on the light novel series by Hajime Asano, which has also spawned a manga series published here by Seven Seas. This comedy/romance has plenty of interesting elements including a gynophobic high school boy, and a cross-dressing female butler.
Also due this week is the Rental Magica, Part 2 Litebox Collection (Right Stuf, 13+, 400 min. $39.99), which is now available for $10 less than the original 2010 release with no sacrifice of the Right Stuf's typical quality approach to anime.
Classics on Blu-ray
Disney is continuing to produce superb Blu-ray editions of its classic animated features. While Cinderella (Disney, "G," BD/Combo $39.99), which debuted in 1950, may not be one of the best Disney films, it was a huge hit that actually saved the studio. It was the studio's first major hit since Snow White. To keep costs down Disney animators made extensive use of live-action reference for the animators, and though the animation may not be the best the studio ever produced, it is an excellent match for the subject matter and provided the initial visual reference for the whole "Disney Princess" thing.

--Tom Flinn

The opinions expressed in this column do not necessarily reflect the views of the editorial staff of ICv2.com.