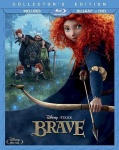 Pixar's 2012 animated feature Brave headlines this week's home entertainment offerings along with Oliver Stone's bloody Savages, along with the latest half-season release of the revamped Doctor Who, the complete original TMNT animated series, and a full complement of anime releases, many of which are in Blu-ray.
Theatrical Movies
This week's major release is Pixar's Brave (Disney, "PG," $29.99, BD/DVD Combo $39.99, 3-DBD Combo $49.99), a not completely successful attempt to create a Miyazaki-like adventure film centering on a young female heroine. Brave was to be Pixar's first feature film written and directed by a woman, but Brenda Chapman was replaced as director during filming, though she maintains that her vision of a Grimm Fairy Tale-like saga set in the Highlands "came through in the film." If Brave were the product of some other animation studio, critics (including this one) wouldn't be carping, since this is a visually stunning film based on an original story, and its success ($534 million at the worldwide box office) should help expand gender roles in these animated film adventures targeting young viewers. Even with its flaws Brave is still the best animated feature from a major American studio so far in 2012, and well worth owning, especially for anyone with children. The Brave DVD and Blu-rays come with the cool animated short "La Luna" (directed by Enrico Casarosa) that accompanied the film in theaters. In addition a new short film, "The Legend of Mor'du" provides more insights into the legend of the giant demon bear that plays such a major role in the film.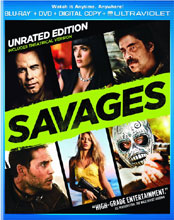 For genre movie fans there is Oliver Stone's
Savages
(Universal, "R," $28.98, BD $34.98), the director's bloodiest and most nihilistic film since
Natural Born Killers
. Based on a neo-noir novel by Don Winslow,
Savages
is the cautionary tale of three friends who have a high grade marijuana-growing operation in Southern California that gets the attention of a Mexican cartel that wants in on the action. John Travolta has a wonderfully comic turn as a crooked cop, but
Savages
, which earned a so-so 51% positive rating on Rotten Tomatoes, is no
Pulp Fiction
or
Jackie Brown
, though Tarantino is major influence on the film and those who enjoy his films will find much to like here.
Some projects are just plain snakebit. Case in point, The Watch (Fox, "R," $29.98, BD $39.99), an "R" rated action comedy that was originally titled "Neighborhood Watch" and was slated to open just before the tragic killing of Traevon Martin by a neighborhood watch volunteer. Even though the studio delayed its release and changed its name, The Watch was a dismal box office failure. Still those who like raunchy, R-rated humor will likely enjoy this farcical alien invasion film with its wall-to-wall vulgarity.
TV on DVD
The slowdown in this category continues, but there are some interesting offerings for the geek audience including the Canadian-produced supernatural crime drama Lost Girl: Season 2 (Funimation, 968 min., $64.98, BD $74.98), which contains all 22 second season episodes of the show that airs in the U.S. on the SyFy cable network.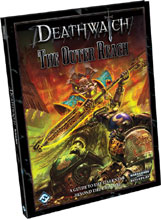 But the most interesting geekcentric releases are clearly all related to
Doctor Who
, especially
Doctor Who, The 7th Series: Part 1
(BBC, 225 min. $24.98, BD $29.98), which contains the first half of the most recent season of the revamped
Doctor Who
featuring Matt Smith as the 11th incarnation of the Doctor as well as his companions Amy and Rory (the Ponds). The Blu-ray contains some great extras including features on "The Science of Doctor Who," "Doctor Who at Comic Con," "The Making of Gunslinger," and an "Asylum of the Daleks" preview.
For fans of the vintage Doctor Who series there is the Doctor Who: Story #057: The Claws of Axos Special Edition, a classic 4-part episode from the eighth season of the original series that features the Third Doctor (Jon Pertwee) and was originally broadcast in 1971.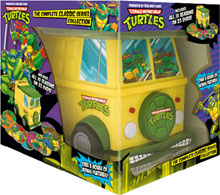 The other key offerings are mostly animated shows and they are led by the
Teenage Mutant Ninja Turtles: The Complete Classics Collection
(Lionsgate, $99.98), which includes all ten seasons of the original
TMNT
cartoon series on 23 discs. Also of great interest to animation fans is
The Flintstones: The Complete Series
(Warner Bros., $111.82), which contains all 166 episodes of the Hanna-Barbera series that was loosely based on
The Honeymooers
, and which blazed a trail as one of the first popular prime time cartoon series.
Equally interesting for some will be the 8-disc Scooby-Doo, Where Are You!: The Complete Series (Warner Bros,, 902 min., $89.97), which comes packaged in a cardboard replica of the Mystery Machine. Those who enjoy a more modern incarnation of Scooby-Doo might want to check out Scooby-Doo! Mystery Incorporated: Season 2, Part 1 (Warner Bros., 286 min., $19.97), which collects 13 episodes from the 11th series featuring Hanna Barbera's wacky mystery-solving team.
Blu-ray is not reserved for just modern "TV on DVD" offerings, the best TV series from the past are now getting the BD treatment. This week it's Friends: The Complete Series Collection (Warner Bros., 5,200 min., BD $279.98) and the 1960s classic, The Dick Van Dyke Show: The Complete Series (Image Entertainment, 3950 min., BD $349.98).
Other vintage TV releases that don't yet rate the Blu-ray treatment include The Real McCoys: Season 2 (Inception Media, 900 min., $24.98) and Cagney and Lacey: The Complete 2nd Season (Visual Ent., 343 min., $24.99).
Anime
Among the most interesting anime releases this week are the Blu-ray debuts of a number of great series including the adventure-packed Black Lagoon Complete Series (Funimation, "17+," 650 min., BD/DVD Combo $54.98), and Serial Experiments Lain Complete Series (Funimation, "14+," 325 min., BD/DVD combo $89.98) that comes with a 320-page artbook (in Japanese).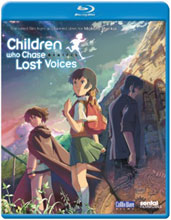 But it's not just re-releases that get the Blu-ray treatment this week. The most likely bestseller is the
Hellsing Ultimate Set 2
(Funimation, "17+," 180 min., BD/DVD Combo $69.98), which includes the OVA episodes 5-8 of one of the most popular horror anime titles of all time. This is the latest installment in what many critics consider the top current anime horror franchise.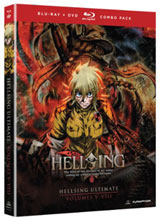 However the most interesting anime release of the week for those who enjoy cutting edge anime series is Makoto Shinkai's
Children Who Chase Lost Voices
(Sentai Filmworks, "13+," 116 min., BD $39.98, DVD $29.98). For Shinkai, who created his first feature
Voices of a Distant Star
on his personal computer and then directed the brilliant and highly poetic
5 Centimeters Per Second
,
Children Who Chase Lost Voices
is his most ambitious and longest work yet.
Also due this week are Bleach Box Set 4: Part I (Viz Media, "13+," 425 min., $24.98) and Bleach Box Set 5: Part II (Viz Media, "13+," 350 min., $24.98), which include episodes 64-79 and episodes 80-91 respectively of the popular long-running supernatural action series based on the popular manga by Tite Kubo.
For those who like a little humor with their alien invasion anime there is the Sgt. Frog Season 3 Collection (Funimation, "13+," 600 min. $49.98), which includes episodes 52-78 of the popular series.
Other re-priced re-releases include the Hellsing Complete TV Series (Funimation, "17+," 300 min., $34.98), the Linebarrels of Iron Complete Series (Funimation, "17+," 300 min., $29.98), the Queen's Blade Complete Collection (Media Blasters, "16+," 600 min, $74.99), and Tenchi Muyo: Tenchi in Tokyo (Funimation, "14+," 650 min., $39.98).
Tom Flinn

The opinions expressed in this column do not necessarily reflect those of the editorial staff of ICv2.com.