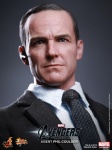 Confessions of a Comic Book Guy is a weekly column by Steve Bennett of Super-Fly Comics and Games in Yellow Springs, Ohio. This week, Bennett talks about his new tablet and its fate.
For those who came in late, afraid that not having a computer tablet was making me miss out on an important aspect of the whole digital comic book reading experience (as well as placing me increasingly in danger of becoming irrelevant), last week I broke down and got myself one. My budget being small I decided to set my sights on something equally small, one of those $200 mini-tablets. Like any true nerd first I did copious amounts of Internet research on all of the major brands before I made the rounds of the retail chains. Which was when the sales associates informed me the little I thought I knew about computers was wrong and there were half a dozen brands I didn't even know existed.
Seeing as how it was the one with the consistently best reviews, as well as being a big fan of Google's Chrome browser, I decided to go with the Nexus 7. As I suspected, having been instructed from birth to never touch a screen, learning how to operate it was a completely counter-intuitive experience. Plus there was the fact that my Vienna Sausage-sized digits proved too thick to perform even the simplest tasks, like closing a window. But I studied the manual, called the Google helpline and got a stylus (which my dyslexic brain insisted repeatedly on calling a stencil) and after a couple days of practice I found I could more or less operate it.
There was definitely a period of adjustment but I must confess by day three I found myself falling in love with the Nexus 7
'
s sleek designs and it's seemingly endless uses. The main question though of course is how well it ran digital comics; the answer, very well indeed. I downloaded apps from Marvel, DC, Dark Horse, Archie and comiXology, then a selection of free comics, and was more or less pleased with the reading experience. The only downside I can see to reading comics on a mini-tablet is size; I frequently found the dialogue too small for me to read without difficulty. But then, seeing as how I wear trifocals (and if I can believe my optometrist I have the onset of cataracts to look forward to) I honestly couldn
'
t tell you whether I should be blaming the screen or my eyes.
I wish I had more to report but on day four I got home later than usual and while I
'
m no Sherlock Holmes I immediately noticed my Nexus 7 was missing. There were the unmistakable signs of rifling (i.e., the lid of the little wooden box where I keep my Legion Flight and Green Lantern power rings was open, etc.) and the lawn outside my bedroom window was littered with things that had once been on the windowsill. And the shade had been pulled up so vigorously I can no longer get it down. I therefore deduced someone had gotten in my apartment by sliding the screen on my partially opened bedroom window.
I wish I could say that I was lucky the only thing missing was my Nexus 7, but it
'
s hard not to take that as judgment it was the only thing in my apartment worth stealing. I also wish I could say I got angry or even upset, but instead I just sat down and ate my take-out dinner, because given the year I
'
ve had I probably should have seen this coming. I've somehow managed to go through three refrigerators and two blenders, both of which claimed on the box to be capable of crushing ice but instead sent ice cubes hurtling through the sides of the blending jars like fastballs. Not to mention the fact that a possum had recently dug through concrete to get inside my apartment, made a nest in my closet and ate the stains out of my dirty laundry. As well as gnawing the crap out of my $5 Wal-Mart copy of the Speed Racer movie. It
'
s just been that kind of year.
Naturally I don
'
t have renter
'
s insurance or any way of replacing my tablet any time soon. This experience has shown me one thing; I should have gone big and got myself a full-sized tablet. I
'
ll let you know when and if that ever happens.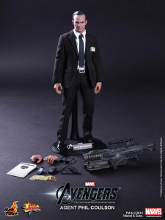 And finally, I thought I had already bought my
"
toy
"
for Christmas but given the circumstances I might just have to get another, Hot Toys 12-inch Agent Phil Coulson figure which they
'
re releasing as part of their Avengers Movie Masterpiece toyline. Agent Coulson comes with both open and closed cell phones, Captain America trading cards and, naturally, his great big gun. Except of course Phil unfortunately won
'
t be released until mid-2013 and will have a SRP of a little over $200, which is a little outside my price range.
The opinions expressed in this column are solely those of the writer, and do not necessarily reflect the views of the editorial staff of ICv2.com.