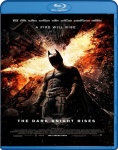 As the holidays approach the pace of theatrical releases picks up and this week sees the debut of what will almost certainly be among the top 5 bestselling DVDs of the year, Christopher Nolan's The Dark Knight Rises. But there are other films of interest, especially Beasts of the Southern Wild, as well as the Blu-ray debut of Star Trek: The Next Generation Season 2 and the 15th season of The Simpsons.
Theatrical Movies
This week's theatrical releases are led by The Dark Knight Rises (Warner Bros. "PG-13," $29.98, BD/Combo $35.99), the third and final chapter in director Christopher Nolan's Batman trilogy. Although it wasn't this summer's most popular superhero film (that distinction belongs to Joss Whedon's The Avengers), there is little doubt that The Dark Knight Rises proved to be a fitting conclusion to Nolan's Batman films, and it is highly probable that it, not The Avengers, will be remembered as the best superhero release of 2012. It is safe to say that Nolan's Batman films have had a major impact on the superhero genre. Not only were these films commercially successful, they also set a new standard for artistic achievement in the once despised superhero movie genre. Nolan grounded his superhero sagas in the real world, using for example the ripped-from-the-headlines theme of financial collapse and social unrest to great effect in The Dark Knight Rises. Nolan's approach (and that of actor Christian Bale who portrayed Batman in the trilogy) can be criticized for a lack of humor, but the essential "gravitas" of their methods lends dramatic weight to proceedings—and the heritage of the campy Batman TV series and the increasingly absurd series of 1990s Batman movies may have limited the tonal options for any director/writer attempting to revive the Batman property.
For those who don't already own the other two films in Nolan's trilogy there is also The Dark Knight Trilogy (Warner Bros. "PG-13," $38.99, BD $52.99), which includes all three movies with the Blu-ray versions being highly recommended for all those who are so-equipped—Wally Pfister's photography in the service of Nolan's neo-noir style is a real joy for the cinephile to enjoy in high definition, and Nolan's extensive use of giant IMAX cameras on TDK and TDKR provides an extra sharpness of detail, which comes through in the Blu-ray editions.
Arthouse movie fans have several options this week, the best of which is
Beasts of the Southern Wild
(Fox, "PG-13," $29.98, BD/Combo $39.99), a magical neo-realist saga about a six-year-old girl, who sets off to find her mother in the aftermath of a hurricane that devastates her home on a remote Louisiana bayou.
Beasts
managed to make $11.2 million theatrically, which isn't too bad considering it was only shown in 315 theaters. Well-directed by Benh Zeitlin,
Beast of the Southern Wild
deserves much wider exposure—perhaps it will get it on DVD.
Older moviegoers will doubtless be interested in Hope Springs (Sony, "PG-13," $30.99, BD $35.99), the timeworn saga of a longtime married couple who attend a therapy retreat hoping to rekindle the passion in their marriage. With Meryl Streep and Tommy Lee Jones in the key roles, Hope Springs is worth seeing just to watch these two old pros in a saga that may be a bit commonplace and corny, but which they play straight and manage to elevate with a refreshing combination of craft and irony-free earnestness.
Disney is mounting a major advertising campaign for The Odd Life of Timothy Green (Disney, "PG," $29.99, BD $39.99), a heartfelt, some would say sentimental, tale that is extremely well-acted by Jennifer Garner and Joel Edgerton. This film is certainly not for the cynically-inclined. Its heartwarming celebration of family life is definitely not what "some folks call rock and roll," but a solid screenplay by Peter Hedges (About a Boy, Dan in Real Life, What's Eating Gilbert Grape?) includes enough real world elements to keep this film from being a total danger to diabetics.
Jennifer Garner also stars in Butter (Anchor Bay, "R," $24.98, BD $29.99), a satire set in the niche world of butter carving directed by Jim Field Smith (She's Out of My League). Neither critics nor audiences found this film very appetizing, but those who enjoy offbeat indy comedies could do a lot worse. Yes, there is some condescending satire of Midwesterners, but it's no more biting than The Music Man, which also had some fun with the earnest obsessions of the "tall corn state."
TV on DVD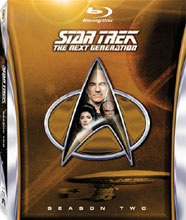 After a couple of fallow weeks, releases in this category bounce back with a wide range of geekcentric offerings including the Blu-ray debut of
Star Trek the Next Generation: Season 2
(Paramount, 998 min., BD $129.99), which contains all 22
Season 2
episodes in sparkling hi-def transfers that make this show look even better than it did when it was first broadcast.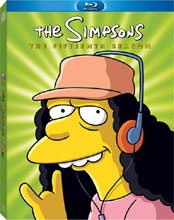 Equally interesting is
The Simpsons: The Complete Fifteenth Season
(Fox, 484 min., $49.98, BD $59.99,
Limited Edition
$49.98), which includes all 22 episodes of the 15th season of the long-running animated series that is without a peer in terms of the satirical glances at modern American pop culture. As usual this set comes with loads of extras, and the "Limited Edition" comes with an exclusive "Otto" head immortalizing the series' seriously stoned bus driver.
Those who like their humor campy could do a lot worse than Mystery Science Theater 3000: XXV (Shout Factory, 480 min., $59.97), which features the MST3K crew giving the "business" to a quartet of lame features including Operation Double 007, Robot Holocaust, Kitten With a Whip, and (the not so lame) Revenge of the Creature.
Animation and kid-targeted titles include Ninja Turtles: The Next Mutation, Vol.2 (Shout Factory, 240 min., $19.93), which collects the second season of the live-action TMNT series produced by Saban that aired in 1998, Korg: 70,000 BC (Warner Bros., 344 min. DVD-R $24.95), the 1974 live-action series about Neanderthals produced by Hanna-Barbera and based on real anthropological research, and My Little Pony: Friendship Is Magic—Adventures in the Crystal Empire (Shout Factory, 120 min., $14.97).
Contemporary cable series that are due out this week include the raunchy minor league baseball show Eastbound and Down: The Complete 3rd Season (HBO, $29.98, BD $39.98), BET's pro football drama The Game: The Fifth Season (Paramount, 464 min., $36.99), HBO's mock-documentary Angry Boys: The Complete Series (HBO, 760 min., $29.98, BD $39.98), the 12-episode Titanic: Blood & Steel (Lionsgate, 800 min., BD & DVD $29.97), a mini-series, which mixes excellent production values with loads of historical inaccuracies, World Without End: The Complete Series (Sony, 389 min., $65.99, BD $75.99), the 8-episode mini-series based on the Ken Follett novel that airs on Reelz, and the final season of the underrated TNT series Men of Certain Age: The Complete Second Season (Warner Bros., 528 min., $39.98) that starred Ray Romano.
Vintage TV series out this week include Cagney & Lacey: The Complete 2nd Season (VEI, 343 min., $29.99), the white gloves 1950s sitcom The Donna Reed Show: Season 5 (MPI, 870 min., $39.98), Mannix: The Complete 8th Season (Paramount, 800 min., $49.98), and McMillan & Wife: The Complete Series (VEI, 4350 min., $169.99).
Anime
New releases this week include Mashiroiro Symphony: The Color of Lovers Complete Collection (Sentai Filmworks, "14+," 300 min., $49.98), a 12-episode anime TV series from Manglobe that aired in Japan in 2011 and was based on the harem/romance visual novel game from Palette.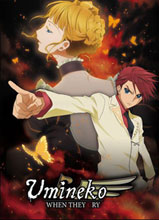 Even more interesting are the two
Umineko: When They Cry
releases,
Umineko: When They Cry Part 1
(NIS America, "17+," 413 min., BD $79.98) and
Umineko: When They Cry Part 2
(NIS, "17+," 191 min., BD $49.98).
Part 1
includes the first 18 episodes (and 3 story arcs) of the 26-episode 2009 anime series from Studio Deen based on the third iteration of the "When They Cry" series based on the murder mystery dojin soft visual novel series produced by 07th Expansion.
Umineko
focuses on a group of eighteen people on a secluded island, and the object of the exercise is to find out the cause of the murders on the island, and whether those deaths are caused by humans or by supernatural entities.
Those who enjoy yaoi manga might want to check out Ai no Kusabi: The Space Between (Media Blasters, "16+," 120 min., $19.99), which includes OVAs that were released in 1994 and based on the novels by Rieko Yoshihara that were released here in the U.S. by Digital Manga.

Tom Flinn

The opinions expressed in this column do not necessarily reflect those of the editorial staff of ICv2.com.